By Steve Mirsik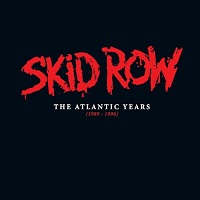 If you're looking for the latest "must own" box set, then look no further! Hard rock royalty Skid Row have just released 'The Atlantic Years 1989-1996' which perfectly captures their global domination in a seven LP and five CD box set format. Skid Row formed in my home state of New Jersey in the late 80s and ultimately achieved huge commercial success with 'Skid Row' (1989) and 'Slave To The Grind' (1991) including their hit songs '18 and Life', 'I Remember You', and 'Monkey Business'. So, what exactly is included in this rock and roll treasure chest?
The collection includes 180-Gram Audiophile 'B-Side Ourselves' EP and the live EP, 'Subhuman Beings on Tour!', which was previously only available on CD in Japan! It is now being made available globally and on vinyl for the first time ever which is pretty awesome. In addition, you also receive the newly remastered versions of 'Skid Row', 'Slave To The Grind' and 'Subhuman Race'. What more could you ask for! As you probably already know, Sebastian Bach has one of the most iconic voices of our time and 'The Atlantic Years' perfectly captures his time as the band's frontman.
I'm always a fan of B-side releases and this one certainly delivers. The track list includes 'Psycho Therapy', a cover of the Jimi Hendrix classic 'Little Wing', the bands take on 'C'mon and Love Me' by KISS, as well as 'What You're Doing' and 'Delivering The Goods'. If you're a fan of live albums (who isn't!?) Skid Row has you covered there also. Some notable tracks from the live album include 'Beat Yourself Blind', 'Riot Act' and 'Slave to the Grind' capturing all the raw energy and excitement of their concerts. By the end of 1996, the band had sold a total of 20 million albums worldwide, cementing their legacy as one of the most successful and important bands of their era and this set encompasses all of it.
Although the line-up has shifted over time, Skid Row remain active touring the world and are
currently in the studio recording a new full-length record to be released in 2022 so make sure to follow them on social media. All in all, if you're a fan of blistering guitar solos, bombastic percussion and the most iconic vocals of yesteryear this box set is a no brainer! The CD and vinyl sets have the same tracks, the vinyl however has seven records to accommodate all the songs. So, what are you waiting for? 'Skid Row – The Atlantic Years' is available for purchase just in time for the holidays!
'The Atlantic Years 1989 – 1996' is out now. You can get your copy HERE.
All content © of Über Rock. Not to be reproduced in part or in whole without the express written permission of Über Rock.