By Hannah Reid
Tonight's show was set in the legendary King Tut's Wah Wah Hut – one of my all-time favourite venues to go and see bands in. No barrier, flashing lights and a packed room meant that tonight was going to be a good show, intimate and fast-paced. And I couldn't wait.
Opening up the show was Deter, and they brought with them a large following of people that were constantly shouting, cheering and clapping as they played. I was at the back of the room as it was so full there was no point trying to push through to see what more I could see. But boy could I hear them, and the passion they had through their songs – everyone bought it and was going along with them no bother at all. The room was moving, quite a lot considering they were a local band and not the main supports on the tour, so that was definitely nice to see people coming out early to catch them.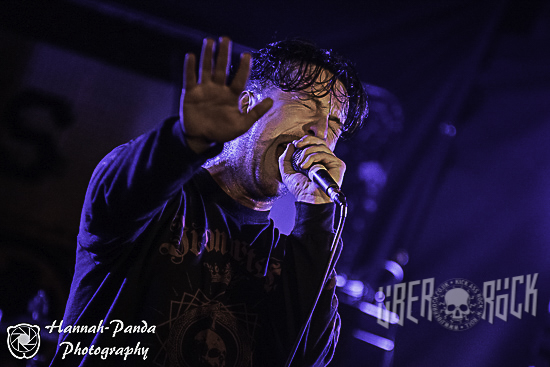 The crowd at this point sort of dwindled down, a lot of people coming along for the first band and staying around to chat with them, but when Death Blooms came up, people were quick to come back and keep the night going. They were the second band up on stage and boy did they know how to get a crowd warmed up and going. The lead singer knew not only how to command the stage but also the crowd, to bring them closer in and then start up several pits. I've never seen such a crowd in such a tightly packed venue move so much and get so into the songs to open up circle pits and headbang as much as they did. It was definitely fun to watch and everyone seemed to be having a really good time as they did it.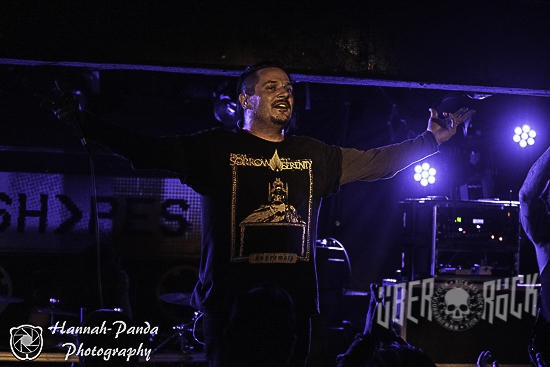 The Five Hundred were the main support for this tour, and they seemed to have quite a large following in Glasgow as the crowd got really into it. Much like the other bands that were playing, the crowd wasted no time in headbanging and moving along with them. They were energetic and full of life as they moved across the stage, getting people more and more riled up – everyone was invested in them at this point.
Obviously Shvpes were the main reason people were here, so when they came on stage, it seemed like even more people came out and crammed into the room to catch a glimpse of them. They opened their show up with 'Undertones' and immediately people were up off the floor and singing along as loud as they could. The lead singer was sure to make sure everyone was involved, getting people to sing along into the mic and going as close to them as they could so that everyone got the full experience as they played. This tour was promoting and showing off their newest album, so it was no surprise to see how many newer songs were getting played, some of them for the first time – so everyone got in on the hype for that.
'Rain', 'Two Minutes of Hate' and 'Afterlife' were just some of the songs from the night that I can remember vividly because of how excited and hyped up everyone got from what they were doing on stage. The band were constantly energized and jumping around, encouraging everyone to do the same – although Glasgow crowds need no encouragement to get going.
They closed off the night with 'Calloused Hands' – my personal favourite song from the new album and boy, it seems I wasn't the only one who had a love for it. It felt like it got the biggest reaction from their songs, and everyone came together to move as much as they could. The whole night was really enjoyable and fun, with every band being unique and bringing their own element to the stage as to how they stood out and made it known to the crowd how talented they all were.
PHOTO CREDIT: All photos © Hannah Reid/Über Rock. You can view our full gallery of photographs HERE.
All content © Über Rock. Not to be reproduced in part or in whole without the express written permission of Über Rock.