By Jase Walker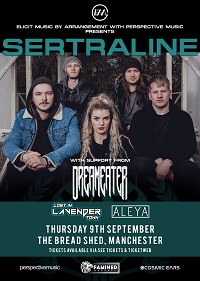 I've been away from doing this for so long, the moment Aleya start I actually forgot I was supposed to be reviewing this show… whoops.
Off they go and not really one for introducing themselves, they get straight into it – the sound is a little off as the bass thunders across the room much louder than the rest of the band. A bit further in this seems to balance out more and I'm drawn towards their singer, cracking voice he's got switching between cleans and uncleans without skipping a beat.
The riffs come off as very Architects-inspired, lots of hammer ons and small slides here and there with quiet sections dotted around that allows the singer some solo focus. They left an absolute banger until last, with the guitarist joining with some uncleans showing some great layering, straying a bit further from the beaten path of metalcore into something a bit closer to groove metal, great stuff.
Evidently, I hadn't read the line-up poster properly because I completely forgot the other support was Lost In Lavender Town and I am *instantly* into this; What's not to like about a chiptune melody before smashing it out the park with some harmonising guitars?
These guys have been on for all of about five minutes and I am absolutely sold and hanging on every riff. I can only describe this as nerdy Dream Theater, each part of this band is masterful in the way they're applying their playing, nothing is too much, nothing is wasted. There are so many influences shining through here: there's Scale The Summit, Dream Theater, Pink Floyd, and a bit of Animals As Leaders! Absolutely bloody sublime. I'm definitely going to be ragging their music back catalogue when I get a chance, because it was right up my street. Also, they have a song called 'Kermit The Hedgehog': how about that?
Dreameater start and I legitimately almost shit myself because HOLY CHRIST THEY ARE LOUD. Bit of downtuned thundering goodness but very much a change from Lost In Lavender Town because this is just pure gravel. The crowd may be a bit sparse but clearly they aren't bothered by this because they're here to wreck the joint and don't need permission for that. Admittedly they're not my usual cup of tea but I have to hand it to them, it's pretty bloody good. Hardcore is more often miss than hit for me but they've got just the right amount of twisted melody that it's keeping me interested.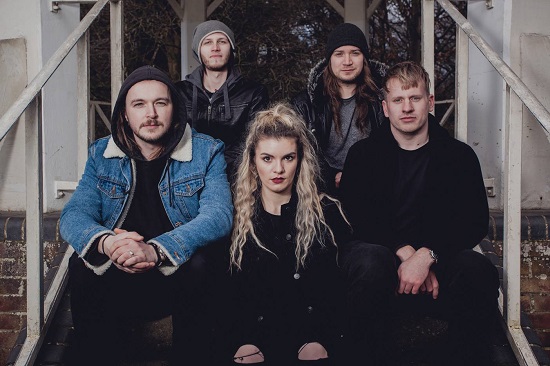 After a minor delay, Sertraline hit the stage. I'm quite glad I'm here to see them before Lizzie departs and she's up there giving 110 per cent. Kicking off with a new song to get it straight out there and get the crowd warmed up, thumping rhythms and uplifting choruses, the calling card of Sertraline, their bread and butter.
By this point the tentative crowd has moved to the front carries, all bopping along to the rhythm and singing back Lizzie's words. Mike and Tom kicking out clean crunchy riffs and slick melodies, Si is absolutely beating the shit out of his drums and Lizzie demonstrates "front woman 101" by mixing cleans and uncleans effortlessly and managing to keep the crowd engaged at the same time.
Covering a smattering of their back catalogue, although this is the delayed tour of their 'Clouded Minds & Silver Lines' EP, this definitely feels like a setlist that's designed to be a send-off for Lizzie by showcasing the varied litany of music they've produced over the years. 'I admit the blame' being a particular banger which errs on the side of a ballad, be wary of that bridge though, it's a doozy.
Back to 'Clouded Minds…' with 'Inside Out': this song is legitimately just riff city and probably one of the more aggressive songs they've got in their repertoire. A fantastic demonstration of their ability to fuse heavy as fuck riffs with pop sensibilities, you've got a verse that makes you want to punch people in the pit and a chorus that would make Simon Cowell blush.
One of the other new songs they're playing tonight is 'Coda', which is due out in October and stands as the final entry of Lizzie's vocals with the band. As with most of Sertraline's existing music, it's another heavy yet poppy entry but has a somewhat melancholy tone which I suppose is a good way to leave your mark on a band that has gone from strength to strength over the years.
I've been a fan of these guys for quite a while now and they've been a fairly consistent part of my time in Manchester since I moved here, It's fantastic seeing how much they've grown. Long may it continue as well because I'll be standing behind them the whole way. They're worth the time, they're a great bunch and you should get yourself to a show if they're nearby, you won't regret it.
Thank you, Lizzie. You've left very big boots to fill.
All content © Über Rock. Not to be reproduced in part or in whole without the express written permission of Über Rock.