By Lyndon Delor
You wouldn't think of Doncaster as being the home of exciting new bands; though being home to the likes of While She Sleeps and Yungblud, the most exciting band to emerge in recent times are the viral TikTok superstars, Blood Stained Reputation, a young but powerful and diverse group. I was fortunate enough to catch this electric, if short, performance in promotion of their forthcoming debut EP release.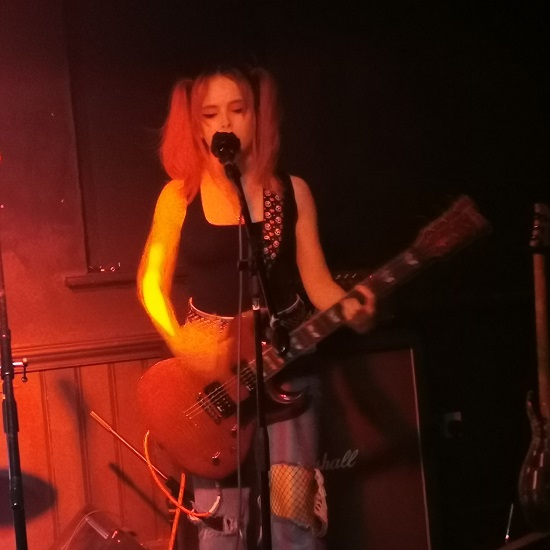 BSR are led by Ray Gane on vocals and rhythm guitar. She is a powerhouse vocalist with punchy riffs inspired by the likes of Freddie Mercury of Queen, Taylor Momsen from The Pretty Reckless, The Beatles, and fellow northern alternative rocker Lauren Tate from Hands Off Gretel – a band all members agree they would love to support in due time. And don't let those pigtails fool you: she can rock as hard as her idols and give some a run for their money.
Alongside Ray is Baz Pierre on lead guitar and backing vocals. A show all on her own, the fiery redhead can dance and rock her way through a set with a kick-ass attitude with aggressive licks to match. Her inspirations are loud and clear in her performance – Slash, Brian May, Johnny Depp, and her recent favourite, Gary Moore. Baz knows how to work a stage, turning a small bar into a stadium. This is a guitarist looking to be your next guitar hero and she's only just getting warmed up.
Then we have Chesk Scott on bass. A headbanging, body swaying solid beat in the band. Only having played for two year,s she is still the thumping heartbeat of the bands sounds, taking inspiration from Wargasm's Milkie Way and Queen's John Deacon, Chesk learned her craft from such iconic bass lines as 'Another One Bites The Dust'.
The bands drummer, Drew, wasn't able to attend the show and so Lucas Bath stood in for this special showcase.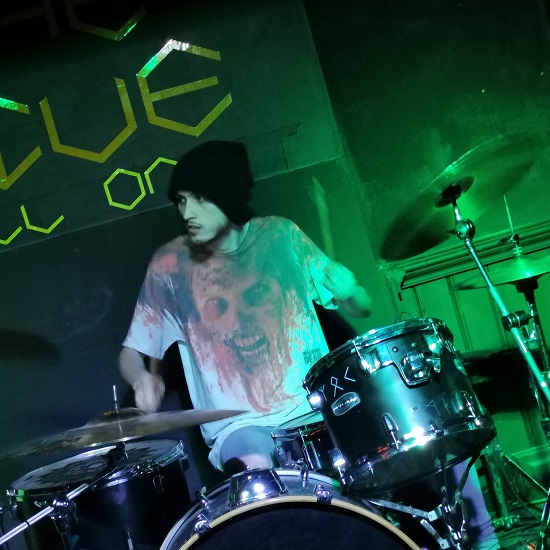 With only one rehearsal and three days to prepare, the band were unsure of how well the performance would go, but still Blood Stained Reputation took the small stage to a room of eight people in the audience. Unfazed by the small group the band kicked off with a ferocious sound of power chords and classic bluesy pentatonic scales with the opening track 'Fade Away'. The most recent to the bands small catalogue of soon to be modern classics, penned by Ray to Baz's original riff, written about being in a dark place emotionally and something many of us can relate to over the last couple of years. "Take it as you will" says Gane as she encourages those who will hear the tracks to make up their own interpretation.
As the band finished their first chorus the smoke cleared and the room was suddenly filled with people from the bar and those who were not going back to the smoking area to catch a glimpse of the band that caught their ears and captivated them, with people pushing their way in to not only hear the band but to witness the performance. With the final strike of the guitar the now full room erupted with applause as the crowd took in what they were witnessing.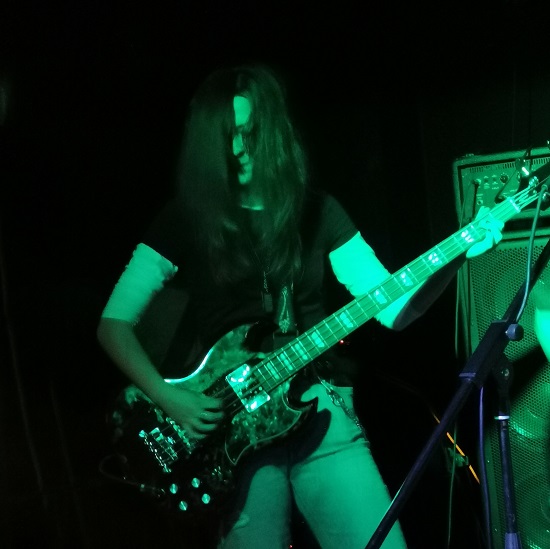 Track two, known as 'The Carpet Song', written solely by Ray, is the band's less heavy, "more indie" track. With the main line "your carpet doesn't look the same" being inspired by a documentary on Oasis, the song came out of the lockdown feeling of going nowhere and how staring at your carpet will make it seem different. A more delicate number, but as strong in its own right as the first number. You truly could not help but notice how aware Blood Stained Reputation are of using light and shade and showing consciousness behind the order in which they play the tracks.
Third on the set list is the bands oldest track, 'Until After', which flowed perfectly from 'The Carpet Song'. The band's most meaningful and raw track, penned over two years ago for the bands performance at Stage Invasion written about the emotions experienced because of a young man using and playing with Ray's emotions. The band placed themselves in that mentality as they put their all into the heavy and heart-felt song which those in the audience soon picked up, including myself, and were actually able to sing along to in the chorus.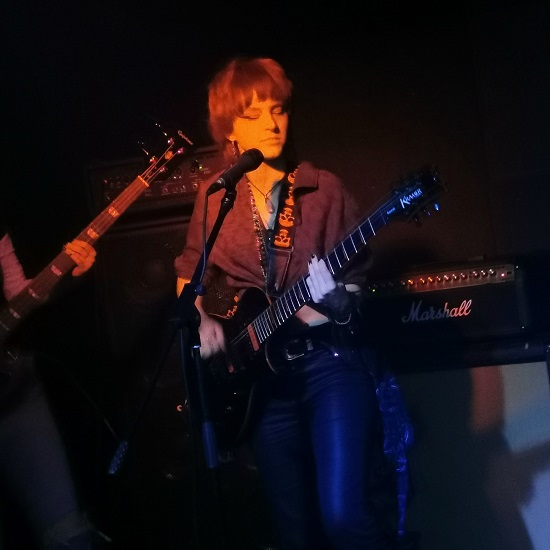 Now, in a four-track set, you're not usually given enough time to hold an audience close when they don't know your music but as a finale and the bands soon to be debut single, 'One To Blame' is Blood Stained Reputation's mark as a staple band in the scene as they show you their potential to become British rock's next biggest band. Heavy, fast, and full of energy – this is an earworm of a song that you'll remember long after hearing it and leaves a crowd cheering for more.
Blood Stained Reputation are looking to release their debut EP in November of this year with an official music video to go with it, all the while working on new material, studying the industry they are keen to conquer and booking gigs; so don't just watch the TikTok videos: see why this band is generating so much hype and you'll be left in awe as you eagerly await a full album and a headline tour that will come sooner for them than they may realize.
PHOTO CREDIT: Photos by the author.
www.facebook.com/BloodStainedReputation
All content © Über Rock. Not to be reproduced in part or in whole without the express written permission of Über Rock.