By Phil Cooper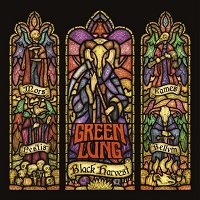 Since 2019's debut 'Woodland Rites', Green Lung have taken the underground scene by storm and emerged into the wider metal collective with a cult like fanbase lauding their recordings and live shows. It's not taken long for people to catch on and now there is a palpable excitement around the London five piece. Their recent performance at Bloodstock has many champing at the bit for new music and with 'Black Harvest', Green Lung are happy to oblige.
Beginning in much the same way as its predecessor, 'Black Harvest' offers up a short, but powerful statement of intent about their musical stylings. 'The Harrowing' delivers a mournful church organ drone accompanying haunting vocals. It's a scene setter, which explodes into life with frantic energy as the drums, bass and guitars drop in unison to raise the tempo and feel to a whirlwind level.
We are then straight down to business. We are offered a plethora of riffs and drum grooves to ensnare the senses and create an irresistible foot stomper of an album. 'Old Gods' and 'Blind Leading the Blind' inject the mammoth riffs, searing lead lines and colossal rhythm sound that fans have come to expect. However, there's evident growth in the style from the debut to what is now being delivered. Green Lung are clearly a band that have found their mark and are now looking to hone that sound into something special and unique. If 'Woodland Rites' is our introduction, then this album is the steppingstone to what they can really achieve.
'Graveyard Sun' is a key indicator of this development, presented as a finely crafted ballad. The shifting dynamics meandering between softer acoustic verses and crashing choruses matches the steadier pace making it standout out in the middle of the album. The music is the ideal accompaniment to the lyrical subject matter of the folkloric Highgate Vampire. It sparks the imagination as much as it engages the ears. An ideal single release from the album.
With the enthralling echoes of 'Graveyard Sun' still hanging in the air. We are treated to yet more high-powered riffs and lead melodies. Yet the rhythmic foundation that holds it all together are so predominant that with each run through there is something different that can be focussed on. When a band is firing on all cylinders, the music becomes more than a sum of its parts and the whole sound crashes with an unrestrained intensity. This is very much the case here. 'Upon The Alter' hits like a sledgehammer with all the instrumentation forming a wall of sound atop which the howling vocals sit. However, after the initial listen the layers can be unpicked and the interplay between the organ and guitars is as well-crafted as the interlocking bass and drums.
Fans should be rightfully excited by what Green Lung have concocted here. They've gone up a gear since their debut and show keen signs of development both musically and lyrically which is never a bad thing. However, they haven't removed themselves from what they started out as. There is still their trademark occult stylings permeating the lyrics and music that contains intense, engaging power. Yet they've harnessed all the good points of their debut and turned that into something razor sharp. There will likely be inevitable likenesses drawn with other bands and theirs is a sound that draws much influence from heavy weight predecessors. However, few will be able to deny that the musical stylings have a unique quality that will mark Green Lung as ones to watch from here on out.
In the ever-contested Album of The Year top spot, the latter half of this year is loaded with possibilities. However, it's not much of stretch to suggest that Green Lung have notched the bar a little higher with 'Black Harvest' and other bands are going to have to take notice.
'Black Harvest' is released on 22 October. You can get your copy HERE.
www.facebook.com/greenlungband
All content © Über Rock. Not to be reproduced in part or in whole without the express written permission of Über Rock.