By Monk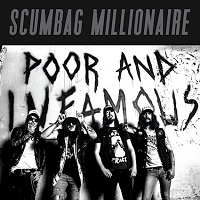 If rock 'n' roll riffs alone could make you a millionaire, then these Swedish scumbags would have an endless stream of zeros in their musical bank balance, as that is exactly what they produce – rockin' riffs by the bucketload. Couple that with an insatiable appetite for clocking up the road miles, and drinking beer, and you certainly have a winning formula, at least as far as these three loveable rapscallions (and yours truly) are concerned…
Having produced something like 20 7" and 12" singles since they first crawled out of the seedy back alleys of Gothenburg around six years ago, these boys just love to play their rock 'n' roll – and play it FAST and LOUD, flying the action punk flag first hoisted by Scandirock predecessors such as The Hellacopters and Turbonegro defiantly and proudly into a new decade with this, their insanely glorious second full-length album.
'Poor And Infamous' is 12 short sharp shocks to your aural cortexes, each one of them an instant earworm. From the chantalong chorus of opener 'Demi-God' through the fierily infectious 'Inferno' to the Motörheadian groove of the likes of 'Ain't No Doubt', latest single 'Desperado', 'Highway Blues' and the very 'Bomber'-esque 'Trouble City' (Mr Kilmister and the Ramone bruvvas definitely are smiling down on the lads), the album stomps all over the opposition with its riotous, don't-give-a-fuck energy, which immediately has you wondering why you spend so much money on certain brands of energy drinks when you've got rock 'n'f'n roll to give you all the wings you need…
These particular scumbags may not be millionaires in monetary terms, but they certainly ain't poor in the riffage department, and they certainly deserve the infamy that their no-nonsense, see-you-at-the-end work ethic has earned them to date – and hopefully long into the future. All that remains to do is crack open another beer, hit that repeat button and crank the volume up another couple of notches…
'Poor And Infamous' is out now. You can get your copy HERE.
www.facebook.com/ScumbagMillionaire
All content © Über Rock. Not to be reproduced in part or in whole without the express written permission of Über Rock.