Review by Jonny Bakes. Interviews by Phil Cooper.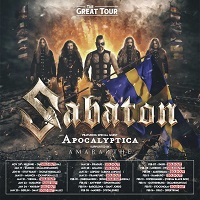 For some unknown reason, I've been allowed out of the relative safety of the north of England to head all the way down to the capital to head to this little place called the Wembley Arena to catch what is possibly one of the biggest bands in power metal at the moment. Naturally, like many of the fans, we made a brief visit to the Imperial War Museum in the afternoon in the lead up to this gig to really get us in that historical mindset for a night of historical themed metal from the mighty Sabaton!
It's a sellout show at the SSE Arena tonight, which means that over 12,000 like-minded metalheads are descending on Wembley Park for this event, which results in an unusually early doors time (5pm!) in order to get this unruly camo-clad bunch in and settled before things kick off. We've got Amaranthe and Apocalyptica in support tonight, who have both coincidentally released Sabaton covers of songs from the Great War album, so it'll be interesting to see how much involvement they have throughout the night.
But starting things off we have Amaranthe taking to the stage in front of roughly half of tonight's crowd, which is a shame because they open with some serious energy! Their electronica vibes manage to stir some early movement in the crowd. If you haven't heard Amaranthe before, and I'll admit my knowledge was pretty light coming into this, they're somewhere in between Enter Shikari, Within Temptation and Combichrist. If you can wrap your head around such an eclectic combination, you would be surprised to learn how well that translates into a live performance. All three vocalists spend the majority of the set bouncing across the stage and showing some great chemistry between them, which must be how they manage to hit those harmonies!
Their set is predominantly made up of their hard-hitting energetic tracks with the exception of a brief lull for 'Amaranthine' which encourages an impressive display of phone torches around the arena. The band really pushes the audience participation throughout the set which really does it for me as I'm not a fan of the "let's just play our songs and leave" approach. Their set ends on a high with a double header of 'The Nexus' and 'Drop Dead Cynical" which leaves the crowd on a high ready for Apocalyptica.
Definitely a change of pace as you might expect, from the electronica vibes of Amaranthe into the classically rooted three cellists that is Apocalyptica. But, wow, do these guys manage to make some really heavy noise with those cellos! We're treated to several instrumental tracks with some stunning visuals on the screen to start off the set. There's not as much movement from the crowd for this as it appears most people are just taking in this aural sensation.
Elize Ryd of Amaranthe joins the band on stage to run through a couple of the vocal driven tracks, starting with a fantastic cover of Rammstein's 'Seemann' which really delivers significant amounts of passion, before moving onto 'I Don't Care'. This is a very different take from the original recording as it lacks the raw aggression that Adam Gontier of Three Days Grace brought to the track. Nevertheless, they manage to make it work! An Apocalyptica set would not be complete without going back to their roots and bringing some Metallica covers, and on this occasion we get both 'Seek and Destroy' and a fantastic set closer in 'Nothing Else Matters', which provides an opportunity to chill out before the inevitable excitement of Sabaton's set.
I'm expecting big things from Sabaton tonight as this is their only ÜK date of the tour and, oh boy, they certainly do not disappoint! After being treated to the 'Soundtrack Edition' instrumentals from 'The Great War' during the break, which finished with the emotional 'In Flanders Fields', we are greeted with an incredibly energetic start as I'm blinded by pyrotechnics as Sabaton charge onto the stage. The crowd goes absolutely wild for the band's, now standard, opener 'Ghost Division' which never fails to whip the crowd into a frenzy. The visuals in the background are incredible to the point where they almost distract you from the fact that the drum riser is a fucking tank! As if the pyrotechnics weren't impressive enough already, 'Great War' is accompanied by enough fire to rival a Rammstein set! It's clear that Sabaton really are not messing around tonight and piling on the heat and theatrics, it's sure going to be a sweaty one!
'Attack Of The Dead Men' sets the scene with eerie green "gas" and Joakim taking to the stage in a full NBC suit and gas mask and a flamethrower. Particularly impressive is the clarity of his vocals through the mic that's installed in his gas mask. It's another intense track that's played out perfectly with all the energy you expect from a Sabaton show. So, it's no surprise that Joakim chooses a moment to address the crowd after the song to promise us not only some great songs tonight, but also some "extra shitty ones" too! The theatrics continue later in the set when a red bi-plane is wheeled out onto the stage, but this isn't just a bi-plane – oh no. What we've got is a Hammond Organ dressed up all fancy! Joakim seizes the opportunity to take the piss by playing the melody from 'Swedish Pagans' and getting the crowd to sing the word "IKEA" in time with the melody.
Obviously, the main purpose of this organ is to play the organ intro for 'Red Baron', which is met by great enthusiasm by this packed out arena. I wonder if the organ is available in the latest IKEA catalogue perhaps? Another surprise comes later in the set as Apocalyptica return to the stage to provide their talents for 'Angels Calling' (a collaboration that was recently released as a single) and stick around for a good portion of the set to continue bringing that cello goodness for a very emotional rendition of 'Price Of A Mile' and a trip through the Swedish Empire with 'Carolus Rex' and 'Lion From The North', which is accompanied by another serious dosing of fire.
A brief reprise before the encore is accompanied by some impressive footage of the D-Day landings and a recording of Churchill's speech, which can only mean one thing – it's time for 'Primo Victoria'! Thousands of people jumping in unison is an incredible sight to behold: even those with seats up in the Gods are up and bouncing around for this one. This is followed by 'Bismarck', which has become an unexpected hit and regular inclusion in Sabaton setlists since it was recorded to promote the 'World Of Warships' game! Then we finally get 'Swedish Pagans', much to the delight of the crowd before the set closes with 'To Hell and Back', which is met by an insane reaction from the crowd and really provides a fitting end to what has been an absolutely blinding performance from Sabaton!
They maintained their usual energy and enthusiasm throughout the entire set, and I'm not sure you'll ever find a man who looks so happy to be on stage as Pär Sundström, who doesn't stop grinning throughout the performance!
All content © Über Rock. Not to be reproduced in part or in whole without the express written permission of Über Rock.