By Jason Walker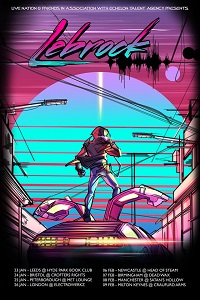 Lebrock are one of the ÜK's more well-known synthwave band's right now, recreating the sound of the '80s that accented most of the popular films of that era. It's not just the sound that they're reproducing but a lot of the aesthetic of the time also, often sporting varsity jackets with neon colours and the like.
Today's show brings them to a rather infamous Manchester venue, Satan's Hollow, which is a well known stomping ground for a lot of Manchester metalheads and students alike. It's another one of my regular haunts where I often spend so much time here that I'm surprised they haven't actually started charging me rent.
The supports for this show are Aeronexus and The Super Late Night, who I've not actually heard of myself but am keen to hear them! As the doors open to the eager queue outside, a stream of people flood in with various Synthwave band t-shirts, varsity jackets and generally retro styled clothing which are very much mainstays of a lot of Synthwave gigs.
Sadly, I missed most of Aeronexus as we'd had the interview scheduled during his set but could definitely hear it while we were doing it. Coming back out from the back room at Satan's, I'm greeted by stuff that really goes in hard with the Darkwave style stuff, which reminds me heavily of the likes of GOST and Dance with the Dead. Something definitely has to be said for a young lad like this getting up on stage and bearing his soul, that takes real balls and the crowd seems to be really digging it. Prior to this show I checked out his Facebook post about supporting this show and his family were all responding to it in support which was really wholesome to see! Hopefully he keeps at this, because he's kicking out some really solid stuff.
The Super Late Night kick off with music that reminds me a lot of The Midnight, it's really lovely happy music honestly! Overall it veers more towards a lot of pop indie music but man, this is some really lovely honest sounding stuff. One thing that really caught me off guard is that they've said that this is their first ever gig! They are playing some incredibly tight stuff for a first gig, I'm genuinely in disbelief here, proper blown away by them!
Between almost every song they're remarking on how amazing the crowd is and you can see smiles all round, people are really enjoying their set. I find it hard to overstate just how impressed I am that this is their first ever show though; if I didn't know this, I'd have assumed that they'd been going for quite a while! A final word on this act is that it was a sublime show, fantastic stuff.
I actually almost forgot to type stuff up when Lebrock came on because I got a little wrapped up in the moment with them starting with 'Real Thing' – that chorus is great! And then straight into 'Dangerous Dreams' which is absolutely my favourite song by them, again, the chorus is EPIC. Another absolute banger in the form of 'Please don't cry' gets the audience singing along to Lebrock, much more movement from the crowd now as they warm to the vibe.
Lebrock displays proper finesse when it comes to writing songs that you can sing along to, and I'm genuinely torn between writing some more notes and screaming back the words! 'Only the Brave' is another example of their epic chorus writing, I really can't put into words how this sort of stuff is such an amazing reinterpretation of 80s anthemic rock in the absolute best way.
Even their newer songs like 'Interstellar' demonstrate this, absolutely incredible choruses all over again. I know I'm probably repeating myself a lot but that's just how Lebrock roll, if you've ever seen your fair share of '80s movies, you'll know the score with catchy big choruses that really get themselves stuck in your head. On the whole, despite Shaun being a bit ill, they still put on a great show that sounded fantastic – which is a triumph in itself because Satan's Hollow can be a hard venue to sound good in. Looking forward to the album!
All content © Über Rock. Not to be reproduced in part or in whole without the express written permission of Über Rock.