By Jim Rowland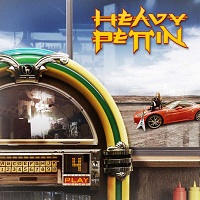 Fancy a bit of 4 Play this Valentine's Day? Now before you slap me in the face, let me explain… '4 Play' is the brand new four-track EP from Scots melodic metal legends Heavy Pettin – and yes, it's released on Valentine's Day.
Many of us will remember Heavy Pettin from the '80s, when they kicked off in the midst of the NWOBHM explosion with an excellent Neat Records single 'Roll The Dice/Love Times Love' and went on to bigger things with their Polydor albums 'Lettin Loose' and 'Rock Aint Dead'. They did well in the ÜK, but the major commercial breakthrough in the States that many expected narrowly eluded them and by the end of the 1980's they had dissolved.
In 2017 Heavy Pettin reformed and have played a fair few live shows since to much acclaim, but this new '4 Play' EP is the first new material to be released by the band since that reformation, and the first release of any kind since the band had a brief resurrection in 2007 with the rare 'Prodigal Songs' album. So this is a much anticipated release for Heavy Pettin fans, but has it been worth the wait?
Well on the strength of this, I think it has to be a resounding thumbs up from Pettin fans. Only vocalist Steve 'Hamie' Hayman and guitarist Gordon Bonnar remain from the '80's days, but with a new line up that also features former Gun guitarist Dave Aitken, this EP proves that the spirit and identity of Heavy Pettin remains firmly intact. '4 Play' is very much an EP rather than an A-Side with three B-sides, but it makes sense to pick the best track to go first, and that's the case with lead track 'Get Back to You', a punchy slice of melodic metal that kicks into a killer chorus within 60 seconds of the start. 'Tell Me Why', another finely crafted Bonnar/Hayman composition, follows in very similar fashion, before Aitken chips in with the anthemic 'Who We Are'. 'Hard To Hold' finishes the EP off heading into slightly longer power ballad territory, and is another very decent effort. It's very much an 'in house' project with Gordon Bonnar handling the production & mixing duties very well to compliment the impressive song writing.
'4 Play' proves Heavy Pettin are back with a bang and still have plenty to offer. If melodic metal isn't your bag, this probably won't change your mind, but if you're a fan of old who's been following the band live in recent years, or if you're an old fan with fond memories of Heavy Pettin back in the '80s [Editor sticks his hand in the air and waves vigorously], or even if you like the more melodic end of metal but don't really know Heavy Pettin, this EP certainly won't disappoint.
'4 Play' is released on Friday (14 February). You can get your copy HERE.
Heavy Pettin headline Brofest at Newcastle University on Friday 28 February.
www.facebook.com/heavypettinofficial
All content © Über Rock. Not to be reproduced in part or in whole without the express written permission of Über Rock.