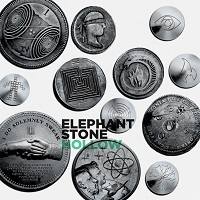 A sitarist came up with a psych-pop concept album might sound like the intro to a music-based joke, but this is no laughing matter as Rishi Dhir and friends imagined a post-apocalyptic place, following mankind's destruction of the world, and created this masterpiece of psychedelia. Six albums in and this is definitely a contender for their strongest release to date, with the concept being hit home in a rather glorious manner. We join the evacuees as they depart Earth in search of their new home…
Album opener 'Hollow World' was one of the first previewed songs from the album and very symptomatic of what to expect, with a highly psychedelic Beatles era sound – think 'Lucy In The Sky With Diamonds' and you'll have a pretty good approximation of their musical approach on this release. Delicate soundscapes with rolling hills of synth goodness providing the backdrop for highly melodic vocals, while the rhythm section do a great job of being just right – clear enough that you are very aware of their presence but not overpowering in a manner that may have detracted from what is a sumptuous release.
'Keep The Light Alive' is one of the four short tracks on this release, being sub 2 minutes, while it feels kind of like an intermission in a storytelling sense – appropriate given the band's concept for this album. That far Eastern sound is a recurring backdrop throughout, as Rishi's highly fluid style showcases his incredible talent with his instrument, with that aim working well in helping you imagine a different kind of paradise, almost like the rising of the sun on the day after the apocalyptic nightmare takes place, just as the passengers set foot on New Earth and the sense of hope and possibilities that now exist in such exciting ways. 'We Cry for Harmonia' was the latest song released from the album, with almost Pink Floyd-esque guitars in the background adding extra layers of depth to what is a strong delivery on their concept, further enhancing that almost space-like sound hiding behind the main components of the music to create the sumptuous sonic landscapes that pervade this whole release.
There is something in this album for most people, in my opinion. Plenty of ethereal, easy to listen to sounds, while the tracks flow seamlessly into each other, creating the storytelling effect that any real concept album truly needs and one which more than a few with a concept this grandiose don't quite reach. The full album feels like the journey, the lows and highs that the people running for their lives are experiencing, making it easy for you to visualise for yourself and the work of some highly talented musicians, composed and compiled in a manner which is not just sympathetic to their aims but an ideal manner of doing so. Highly recommended and one that will be very much to the fore when it comes to my end of year lists.
'Hollow' is released on Friday (14 February). You can get your copy HERE.
Elephant Stone play play The Chameleon in Nottingham tonight (Tuesday 11 February), Nice 'N' Sleazy in Glasgow tomorrow (Wednesday 12), The Castle Hotel in Manchester on Thursday (13) and the Moth Club in London on Friday (14).
www.facebook.com/ElephantStoneHQ
All content © Über Rock. Not to be reproduced in part or in whole without the express written permission of Über Rock.