By Monk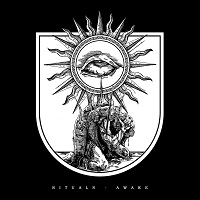 It is an unfortunate circumstance within the music business that there are many bands who share the same name, which can often cause confusion to the listener, especially when they play two different forms of music (and enjoy relatively close geographic proximity). Take the example of two bands by the name of Rituals. A quick internet search reveals that one hails from Edinburgh and play what can best be described as gothic-infused electro-punk. But, it is the other, from just 120 miles down the coast in Newcastle-Upon Tyne, in which we are interested…
The Geordie quartet are a much heavier proposition than their Scottish namesakes, playing a blend of metalcore and progressive groove metal than neither asks for any compromises nor gives any in return. And this debut, four-track debut EP, which builds on a reputation established by three previously released and hard-hitting singles, is a defiant, and definite statement of intent by the band to make their mark on the ÜK underground scene in no uncertain way.
The lead single, and title track, kicks things into gear, building from a dense rumble of bass (both in terms of the drums and the bass guitar itself), which lends a heavy doom inflection to the song's undercurrent, before Lewis Macrae's vocals erupt from the speakers with the force of a tsunami impacting on an unsuspecting Pacific island beach. The rhythm section of Dom James and Jorge Reay are tighter than a year's worth of lockdown restrictions – and continue so throughout the remainder of the EP, while guitar Ewan Lee superbly combines winding melodies with kick-ass riffs that merge into and flow around the overall soundscape.
There is also plenty of texturing to lend much-needed atmosphere to the overall sound, from the genteel easing back in the latter section of 'Awake' to what sounds like a children's choir in 'Turn Away From The Sun'. The four musicians also know how to build tension: the beginning of 'Awake' is another case in point, as is 'Blinding To Me', which integrates a punky edge into its overall vibe.
A storming debut.
'Awake' is out now. You can get your copy, and other Rituals goodies, HERE.
www.facebook.com/RitualsUKMusic
All content © Über Rock. Not to be reproduced in part or in whole without the express written permission of Über Rock.