By Jim Rowland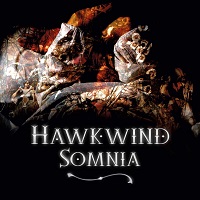 Following the critically acclaimed 2020 Hawkwind Light Orchestra album 'Carnivorous' and the live album '50th Anniversary Live', space rock legends Hawkwind, down to the core trio of Dave Brock, Richard Chadwick and Magnus Martin, are back with a new studio album 'Somnia' – loosely a concept album making many allusions to sleep through Roman mythology and the God of sleep Somnus, sleepless paranoia, strange encounters, fever dreams and meditation. But will it be a nightmare, or a sweet dream…?
Aside from Motörhead, Hawkwind are the band I've seen live the most – countless times over years. And whilst I'm extremely familiar with almost every album from the 70s and 80s, probably like a good few old fans, my knowledge of the more recent Hawkwind output is patchy. So 'Somnia' gives me a great chance to really get to grips with what Dave Brock's current crew are up to these days. And to say I'm pleasantly surprised is an understatement. 'Somnia' displays many of the great qualities and traits of classic Hawkwind, but manages to transport them to the modern era without sounding like a pastiche of former glories.
Lasting just over the hour mark, 'Somnia' is a fascinating journey through multitudes of moods and flavours, kicking off with the sprawling, hypnotic epic of 'Unsomnia' which has a distinct krautrock flavour to it. 'Strange Encounters' is a full-on space rock belter that wouldn't have been out of place on 'Doremi Fasol Latido', and 'It's Only A Dream' and 'I Can't Get You Off My Mind' both quality straight ahead Dave Brock Hawkwind rockers, with the latter a real highlight and a particularly fine example of the kind of cracking catchy tune Brock can still come up with.
'Alcyone' is a beautiful, delicate, spacey ballad, whilst 'China Blues' is the polar opposite, addressing the darker side of things, tackling the effects of Covid head-on in twisted, paranoia-inducing fashion. Of course it wouldn't be a Hawkwind album without some real off the wall spacey detours and interludes, with the likes of 'Counting Sheep', 'Meditation', 'Sweet Dreams', 'Small Objects In Space' and 'Cave Of Phantom Dreams' providing just that – adding smatterings of dub reggae, latin jazz and spacey spoken word passages into the mix along the way, with the latter recalling the days of the very underrated 'Church Of Hawkwind' album in places.
Released on download, deluxe CD and 180gram vinyl, 'Somnia' is a hugely impressive album, forging ahead, but drawing on the rich 50 year history of the band at the same time. It's even more impressive when you consider that each member had to record their parts in isolation during lockdown, and the send them over to Hawkwind HQ to be pieced together and mixed. The result is an album that will delight Hawkwind fans old and new.
All content © Über Rock. Not to be reproduced in part or in whole without the express written permission of Über Rock.