By DJ Astrocreep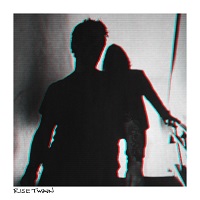 A new project featuring two experienced musicians, Rise Twain are a Philadelphia based duo who shared a lot of love for the other's work, even prior to agreeing to collaborate on this, their debut and self-titled opus. From the start, Jeff Buckley like vocals are pretty obvious, while the music, although clearly of a progressive nature, seems to combine influences as diverse as later era Anathema, Pink Floyd and something a bit more… not exactly mainstream, but certainly something that could be called of a widespread appeal, beyond the usual reaches of progressive acts.
One of the first things you realise is just how luxurious the harmonies sound, both musically and vocally. Both Brett Kull and JD Beck showcase a high standard of talent in each of their roles, in what comes across as quite an organic creation, a focus more on uplifting each other almost and helping the other to demonstrate exactly what they can do. The complexity is quite striking, with a strong intent on performing in a manner that is easy on the ear in terms of the aforementioned harmonies and the layering, creating an atmosphere of relaxation, even when at times there are the occasional jarring effects used to almost draw you out of the trance-like state they put you into.
The first two songs released from this, 'Golden' and 'Everspring are good places to start from if you want to get a hint of what to expect prior to purchasing the album. 'Golden', pretty much from the off, shows a clear Prog leaning with a soft harmonious build-up used as a strong extra string to their musical bow, without overdoing this factor, as a number of other acts sometimes show on their debut release, usually as they find their musical feet together. 'Everspring' is a bit more into a slightly discordant Prog effect at the start, using a jarring dissonance to introduce the song in a fashion that is certainly ear-catching, while at half the length of 'Golden' it shows that the duo don't like to overcook their ideas in the same vein as a number of other similar acts do, showing a good head for songwriting with coherent ideas that end when they get fulfilled, rather than being dragged out.
For a debut release, this is a pretty excellent showing. There should be more than enough in this release to appeal to those of a more Indie bent, as much as the obvious Progressive and classic rock era fans. It strikes me as a release that may be more immediate for some people than for others, but one that should be certainly persevered with should it not immediately catch your attention sufficiently. There should be a varied enough audience that this act could become something beyond the usual niche market towards the more mainstream one, though with a sufficient level of je ne sais quoi that those who flee from the sound of a standard chord would not simply do so with this.
'Rise Twain' is released on 6 September. You can get your copy HERE.
All content © Über Rock. Not to be reproduced in part or in whole without the express written permission of Über Rock.