By DJ Monk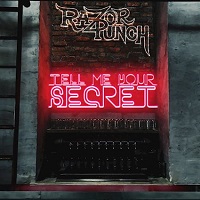 Let me tell you a secret… the Germans know how to rock… hard. Well, that's hardly a secret, is it, given the country's pedigree for producing quality hard rock and metal acts, stretching right back to the emergence of the mighty Scorpions four decades ago and evolving through the likes of NWOGHM progenitors Accept via Helloween to modern Teutonic titans such as Rammstein and a constantly emerging new breed of pretenders, of whom this crüe from the North Sea coast are the latest to find their way onto ÜRHQ's death decks.
Ironically, despite the band having been around for about eight years now, this is only their first album: it is the usual story of line-up changes, members going on to other things, etc. But here they are, and here we are, so let's delve into the secrets delivered by Razor Punch.
To be honest, there aren't many as, by and large, 'Tell Me…' is a fairly standard hard rock album of the type you've heard hundreds, maybe thousands, of times before: a collection of ten good quality if largely straightforward and unsophisticated songs, characterized by the usual mix of raucous riffs, catchy melodies and seering solos.
It's big problem is that RP cannot quite make up their mind on what style of hard rock they want to play, veering erratically for straightahead AC/DC-ish rockers such as 'Brass Tacks' to faux Kiss-esque glam on the likes of 'Falling Forever', 'Take The Ride' and 'Devil's Game' (vocalist Marco Scheiper sounds so uncannily like Paul Stanley it's freaky), to the wannabe suvern boogie of 'Round Here', via some pretty bog standard club rock lighter-raising moments, such as on opener 'Love It Or Leave It' or the rambunctious 'Out And About', which itself is nevertheless a serious stomper guaranteed to raise the sawdust on any dancefloor.
'Tell Me Your Secret' is not a bad album. But, by no means is it a great one. If nothing else, it will afford the chance, in future years, for the five members to look back and say "well, I recorded this album…"
'Tell Me Your Secret' is out now. You can get your copy HERE.
All content © Über Rock. Not to be reproduced in part or in whole without the express written permission of Über Rock.