By Maria Glover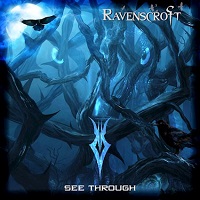 Based in California, Ravenscroft is a quartet who deliver a huge sound described as "melodic, hard hitting rock that comes from the soul". I have to admit I hadn't heard much from them before this album – and, oh my, was I pleasantly surprised by how much I love them? 'See Through' is an eight-track album out today via Pavement Entertainment.
From the start of the first track I knew I had found something special. 'Always Falling' is heavier than I would normally say I like, but it has depth and substance, and is inventive in the way it plays with sounds. Drums march straight in accompanied by a dirty little riff that piques my attention, and dark brooding vocals join in. It's sombre and obsidian in its darkness yet it's not depressing or devoid of emotion, indeed it's a seamless wall of sound that evokes emotions and invades my psyche much more than i hoped it would. Around halfway it ramps up to full on shouty anger with primal metalcore screams and this is cool with me.
'Anything' is a different style from the off, more AOR and melodic with a gentler, sexy vocal rasping towards a big chorus – a blissful crescendo that melts your face off. There is a real range and texture to the vocals – in fact, I think this is my new vocal crush – and the passion of the performance takes the listener on a journey. 'Bed Of Nails' is another mellower start yet the hungry drum beat suggests an anthem is coming m way…and I'm not disappointed. Wow. Raw and passionate yet tinged with a silky sensitivity, this is a beast and one of my new favourite tracks.
Title track 'See Through' has a new wave vibe and again is imaginative in pushing the boundaries in style and content. What a vocalist – tone and depth evoke every emotion and see right into my soul. Paired with a tight instrumental this creates a product greater than the sum of its parts and with a force to be reckoned with. A growling vocal gets me right in the feels and i believe every single word. Even better than my new favourite of a few minutes before…
'Vengeance Is Mine' sees a return to metalcore territory, pure angst wrapped into a killer tune. Never has emotional torture been quite so good to listen to. This is followed by a worthy cover of 'Head Like A Hole': "bow down before the one you serve".
The last couple of tracks are remixes, 'Anything' and 'See Through'. Both are a complete rework of the previous version of the track and push the envelope near breaking point in terms of genre but why let a label limit you? 'Anything' has a pop-rock style intro with a Depeche Mode like vocal, almost desolate in tone. Electronic wizardry and a different vocal style make this song completely different and dark and gloomy never looked so appealing. The 'See Through' remix is again quite different and maybe more radio friendly than the original version. It grabs me by the shoulders and shakes me awake from a mediocrity slumber.
Fuck me, I love this album. I love every track. Each different in their own right and all generating such depth of emotion it's unnerving. This band see my thoughts, read my mind. I absolutely love it. My only criticism (not really that even) is that technically it can be described as six songs, as two are remixes. But when you hear them, and how different they are, you get it. I'm waiting impatiently for payday now…
'See Through' is released today (Friday 20 March).
www.facebook.com/RavenscroftOfficial
All content © Über Rock. Not to be reproduced in part or in whole without the express written permission of Über Rock.