Written by DJ Monk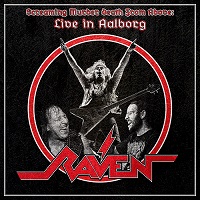 The Gallagher brothers – no, not those ones – should need no introduction to metal fans the Überverse over. For the past four decades the band they formed back in 1974, Raven, have been regarded as one of THE seminal acts in the genre, christened the "godfathers of NWOBHM" for every good reason in the book. Now, 45 years into their storied career, they aim to prove that they are still very much a force with which to be reckoned with this, their third live album, recorded (apparently without them knowing at the time) at a show in Denmark back in November of 2017. And it could be argued that its release is intended to mark the beginning of a new era for the band: just a few months earlier, long-serving drummer Joe Hasselvander had suffered a heart attack, forcing him to retire from playing music. He was replaced by former Fear Factory kit man Mike Heller, this much younger addition breathing new life into his veteran bandmates.
Right from the off, the energy which the band continue to display in their live performances is evident right from the off as they blast through 'Destroy All Monsters' (a song which, ironically, despite being the title of their last live album, released back in 1996, didn't surface until 2015's 'ExtermiNation' album) at positively breakneck speed. And there simply is no let in the ferocity of the aural attack captured here, as the band rattle through their extensive back catalogue, unearthing a few long-lost gems, such as 'Hell Patrol' and 'Hung Drawn & Quartered', the former of which they hadn't played in 15 years – and during which John Gallagher not only proves, not for the last time, he can still hit those piercing high screams, and fucking hold them a helluva lot better than many of his younger counterparts, but also plays his way through a broken bass string.
Of course, there are the expected standards and fan favourites, such as 'All For One', 'Rock Until You Drop' – which sounds as fresh and vibrant, if not more so, as when it was originally released away back in 1981 – 'On And On' and 'Break The Chain', all of which are played 'Faster Than The Speed Of Light'.
As with all live albums, there are a few problems:  the sound mix is not the greatest and is a bit muddy in places, especially on the bottom end, and John's between song banter is virtually lost. But what it does do is bring across the renewed energy which Raven were experiencing at the time, which helped them to display why they are held in such reverence by generations of metallians, and remain such a vibrant force within the genre.  If albums such as this capture a moment (or 90 minutes) in time, then 'Scream Murder Death…' captures a band who are still very much enjoying what they are doing… and, while they continue to do so, so will we.
'Screaming Murder Death From Above: Live In Aalborg' is released on Friday (18 January). You can get your copy HERE.
www.facebook.com/ravenbandofficial/
All content © Über Rock.  Not to be reproduced in part or in whole without the express written permission of Über Rock.