Written by DJ Monk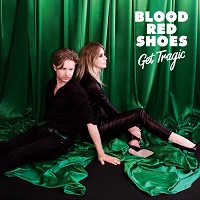 I first came across Brighton's Blood Red Shoes at the turn of the decade, when I stumbled across their excellent 'Fire Like This'.  Not my normal cup of mead, there was just something about Laura-Mary Carter's vocals in particular that drew me into their darkly neurotic otherworldliness which, to me anyway, lay somewhere betwixt the morbidity of The Cocteau Twins and the gothic blues of The White Stripes. Shortly afterwards, I picked up the wonderful 'In Time To Voices', an intensely appealing album which still gets the occasional play (especially when herself is out of the house), most recently when I received the press release proclaiming that the duo had once again emerged from the studio with new material for our aural delectation.
Given the transient pleasures which this hoary old music game throws in our direction, I must admit that I had lost track of Carter and partner Steve Ansell in recent years, their self-titled 2014 album passing me by in a blaze of ignorance. But perhaps it shouldn't be surprising that things were silent as far as myself and BRS were concerned: after all, that album and their ongoing intense touring schedule resulted in the duo actually going their separate ways, with Carter relocating to Los Angeles and the pair hardly even talking to each for an extended period. But, thank the gods of music for the path of reconciliation, for their intervention has resulted in quite possibly the best tome of works that the couple have produced to date.
'Get Tragic' will be instantly recognisable to long-term BRS fans as it possesses all the hallmarks of their sound of old: the thick, droning riffs, the haunting yet piercing vocals, the densely hypnotic rhythms, the swaying moodiness… yes, they're all here – and more. It's a beautiful album in every aspect: yes, it is dark and morose, but it also contains an unmistakeable joyousness, pulsing with energy and vibrancy yet maintaining the sense of reflection that permeated their earlier releases. Having made that latter point, 'Get Tragic' is not BRS glancing backwards, but facing in the opposite direction with renewed optimism and vigour.
'Get Tragic' does break some of the BRS "norms", not least in terms of the more dominant lead vocal role taken on by Ansell. What remains consistent, however, is the sheer quality of the material: each of the 11 tracks is beautifully crafted and performed, and it is hard to pick out any highlights, such is the high level of each and every song.  However, if I had to pick out a handful of tunes to which I will return in the future, then it is hard to bypass the likes of lead single 'Mexican Dress', the haunting electronica of 'Beverly', the languid 'Find My Own Remorse' and the dank oppression of 'Vertigo'.
A superb return from the abyss of inactivity.
'Get Tragic' is released on Friday 25 January. You can get your copy HERE.
www.facebook.com/bloodredshoes/
Blood Red Shoes tour as follows: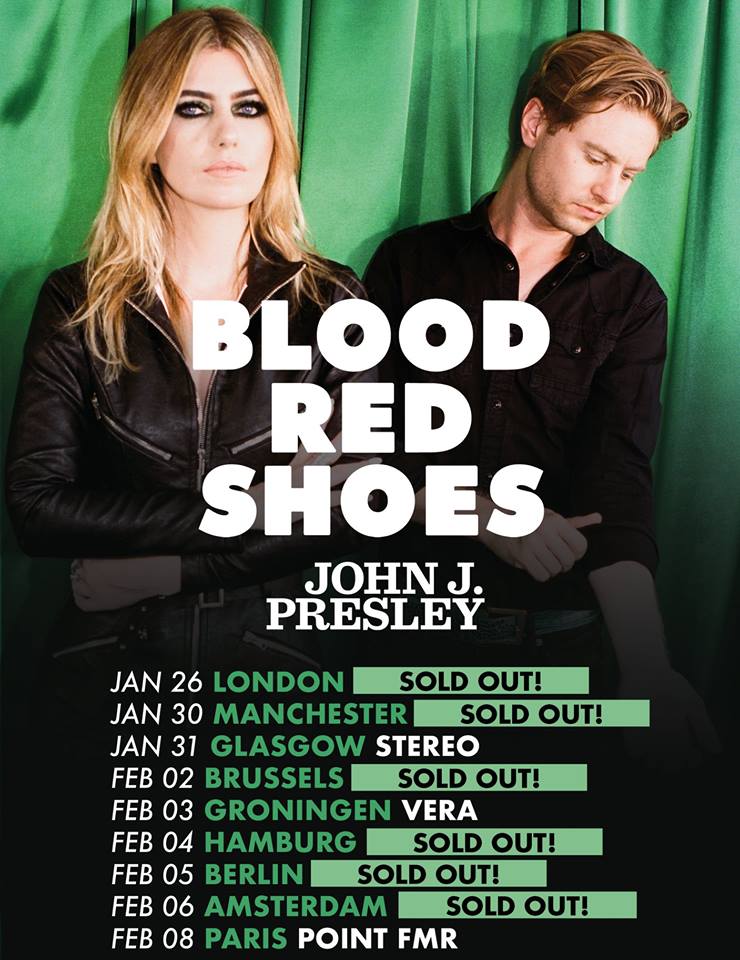 All content © Über Rock.  Not to be reproduced in part or in whole without the express written permission of Über Rock.