By Jase Walker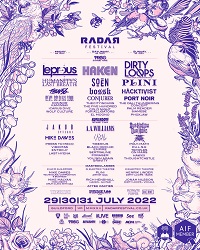 Bright eyed and bushy tailed after a good night's sleep at my Airb'n'b, I'm back at Guildford's Casino for doors to catch the first band on, El Moono.
I know quite literally nothing about these so this will be my first introduction to them and from the get-go, this appears to be sort of Post-metal? The singers got a pretty crazy range that just keeps going up and up in pitch, right to that top A. Slow, grinding riffs leading into massive chorus crescendos definitely seems to be El Moono's songwriting recipe and the steadily building crowd seem pretty into it. Definitely think a band like this was needed to blow the cobwebs off on Saturday morning. They're not quite what I would ordinarily listen to but a solid show for this early in the day nonetheless.
Scurrying backdownstairs to stag two, for You Win Again Gravity. I've not seen these since TechFest back in 2018 so gotta get my fix after a few years! The five piece, sporting three guitars, are my kind of prog; complex rhythms, busy guitar work, and harmonised cleans, lovely stuff. The overall sound is nice and chunky so you can feel the thump of the rhythm section but not drown out the dreamy arpeggios of the guitars, or the vocals. Considering how early this is in the day too, the second stage area is looking pretty packed out so they've got themselves a great crowd as well. You Win Again Gravity often uses contrasting cleans and unclean vocals against a strong melodic backing, and I unashamedly lap this up. Great seeing them live again!
Next on the main stage is one of my draws for this weekend, Danish pop/R'n'B-infused metalcore outfit, Cold Night For Alligators! Right from the start they're getting stuck into the audience and there's barely a stationary head in the room. These guys know exactly when to go hard with a filthy breakdown, or a fat groove and then jump back into tender, soulful pop passages. Cold night For Alligators are truly captivating, the ability to fuse such wildly different styles of music into one cohesive sound in the way they're putting across live is astounding.
The drums blast away, the bass grooves, the guitars juxtaposed against each other with grand melodies and crushing grooves, all the while the vocals are enough to make Beyoncé stop for a moment to take note. What a fantastic band they are, I'd love to see them do a headline slot which doesn't involve having to fly to Copenhagen but I think I just might.
There's no time for resting today, back down to stage two to catch Manchester's local collection of nutters, Forager. Within the first 30 seconds, Oli, their singer, has almost wiped me out already, pretty standard for these really! I don't think this crowd knows what they're in for honestly. He's ran up the stairs, shouted for people to come down and then slid back down it to the stage. I'm seeing a lot of puzzled looks and it's intensely amusing, Forager truly are distilled showmanship.
Forager definitely seems to be winning over an audience that's here for more proggy bands, which says a lot about how much fun their shows are! Starting a mosh pit with Oli and Alex on guitar, then slamming your mic into the floor so hard it flattens the mesh? Yeah standard. To say that Forager left an impact on Radar this weekend is probably a bit of an understatement, they've brought it just as hard as they ever have. I also never thought incentivising a crowd with a foam sword would quite cause that much of a riot.
After that absolute sweat fest, it's back up to the main stage for a slightly more air conditioned show from The Five Hundred. I imagine we've got a similar set to TechFest and opening with 'Black Dogs', confirms it, what a banger though. The crowd is clearly a lot more awake than what they got at TechFest too, the audience is a sea of bobbing heads all gurning to the filthy riffs. Considering the main stage has had some vocal issues, The Five Hundred are coming through fantastically well on this set, the chugs are thunderous, each hit is felt in my chest and through the floor in my feet.
The Five Hundred a fantastic example of British metalcore in their use of intense melodies, epic songwriting, and pretty accessible brutality. Sing your heart out or lose your shit in the pit, either's fine and The Five Hundred will deliver your soundtrack for it. The crowd response to The Five Hundred at Radar today has been great, they've been wrapped around the singer's finger for the whole set and obeying every word. I can't wait to watch these grow over the coming years, fantastic band, fantastic music, and fantastic live show.
Again, wasting little time, it's back to Stage Two for my buds in Sertraline, since I've evidently been stalking every live show they've had this year! Seeing how comfortable they've become with Ben at the helm now, I'm hoping they'll get a solid turnout once The Five Hundred finishes. The room steadily fills and Sertraline are in full force, those bass drops come in so hard they feel like a slap in the face. Mike and Tom on the guitars ebb between dreamy playing and fat, chunky chugs all while Si beats the absolute shit out of his drums in the background. Ben, despite being ruinously hungover, wouldn't have you guess that from the way he's stomping around the stage and demanding energy from the crowd.
I keep looking around to see if I can get a read on what people think and we've got a pretty packed room and a lot of nodding heads. I suspect this might be the first time a lot here have seen Sertraline but the response looks positive! One thing that's really noticeable with Ben, is that Sertraline can really lean into the heavy breakdowns while he screams into the mix, top stuff. Getting to witness the change in band dynamic in real-time this year has been a privilege and I can't wait to see what they do going forward.
I've had to nip out to grab some quick scran so I've taken a hit on a bit of Thecityisours' set sadly! These guys have a bloody packed room, it was hard to navigate coming back in and getting to a good perch to catch what I could! These lot kick out some wonderfully poppy metalcore that is just a straight joy to watch and listen to. I really can't get enough of anything that makes you want to sing along and go wild in the pit to. What little I caught in this particular instance, is enough to show why I love these guys. A band that truly plays to the audience and thrives off their energy, all the while delivering music that is exciting and fun to listen to.
And to make up for missing them at TechFest, I've gotten down to the second stage for Black Orchid Empire and the moment they started I dropped everything and marched right off to the stage. Harmonising vocals, big chuggy riffs, and odd time signatures? Absolute bait for me, get this in my ears! I'm not hesitating to get them followed any way I can with the full intention of rinsing everything they've released for the next few weeks. I'm spying the Dingwall that the bass player's sporting also, the tone from those things is unmistakable, fat enough to chew on.
I've gotten a pretty nice spot to get the most out of this set too, the visuals, the sound and not being too squashed in – perfect. This sort of prog hovers around similar in style to the likes of Haken, Pain Of Salvation, The Pineapple Thief; the type that loves the eclectic elements of prog, but doesn't stray too far away from being a good, solid rock song. It's testament to Black Orchid Empire's songwriting in that they can create music that's as layered and complex as they're playing here with just the three of them. I'll be kicking myself repeatedly for missing these at TechFest, but I'll be making up for it by probably not shutting up about these for weeks.
There's no rest for me today at all, back to the main stage for arguably the loudest band this weekend except for maybe Humanity's Last Breath, it's Conjurer. Some prog-adjacent death metal, relentless and fierce in their delivery, it's not hard to see why these have fast become one of the ÜK's most well known tech-death bands. Just looking around at the heaving main stage room, these guys have a reputation amongst discerning metalheads and Conjurer are delivering on that in spades. The vocals for these are terrifying, the uncleans mesh with each other as one does high register screaming while another matches it with hellish gutturals. Absolutely terrifying, Conjurer should be a band that anyone aspiring to get into the heavy music game should know about, spectacular.
And the last band before a brief break and a chat is Tiberius. These guys are another act that thrives off messing with the audience, mainly their vocalist, Grant. There's rarely a dull moment either with their performance shenanigans or their busy music, barely sparing a moment to kick out more noodles than you can shake a stick at. In a similar fashion to Foragers antics, they're messing with people on the stairs down into the stage area or just milling around in the crowd while kicking out some tasty riffs. Tiberius are anything but boring in their live show; fun, wacky, silly, but definitely not boring.
Their audience is eating this up as well, they're invested in the antics while engrossed in the music, probably rarely a better way to sell your band to the world eh? Definitely privileged to have seen these for the third time this year, a fantastic act that's two parts skilled musical act and one part comedy routine. Love it.
Sadly due to delays and issues around how packed in so much of the venue is, I've had to skip out AA Williams and find a good spot specifically for Haken. It's no secret to anyone who knows me how much of a massive fan I am of Haken so this was pretty important to me. Opening with one of their more aggressive tracks from 'Virus', 'Prosthetic' and its lengthy instrumental start the crowd is already going wild but they erupt as frontman Ross appears. Unsurprisingly the set leans pretty heavily into the 'Virus' album given that they never really got a chance to tour it properly due to the pandemic putting that to bed.
Admittedly I'm mainly holding out for 'Affinity' and 'Vector' tracks since they're my favourites by a pretty wide margin. We've actually got their latest single in the set as well, 'Nightingale' which I think I actually missed them releasing, so I guess this is as good of a way of hearing it for the first time as any! 'Nightingale' stands out as a pretty jazzy number which seems reminiscent of Haken's earlier works, those vocal melodies and somewhat minimalistic guitar playing are super groovy though! The position I've found myself gives me a great view of the audience as well, and seeing almost the entire front section being a sea of waving arms and faces gleefully singing back the words is a sight to behold.
Admittedly I wasn't expecting them to pull 'Cockroach King' out of their catalogue but here we are, time for the most fire a capella ever! Honestly this song really showcases the sublime ability of each member of Haken to riff and bounce off each other with what looks like zero effort. Each part of the band gets to shine, guitars, bass, drums, keys, vocals, everything. And a favourite from the 'Affinity' album, '1985', and it's condensed awesomeness of 80s synth rock, time to get my singalong on! Ross really looks the part with some LED light up glasses as well, get in. Not content to let the song play out as you'd expect, they break of the build up to the solo to play a short cut of 'Owner Of A Lonely Heart'… not that I'm complaining: makes up for YES not playing it when I saw them a short while back, ha ha.
And it would appear that the final entry is my absolute favourite Haken song, 'The Architect', an extensively long song that truly shows all possible facets of Haken. A catchy chorus, biting riffs, heavy chugs, extended ambient sections with bass noodling, it's just everything you could want in a single Haken song. What a way to finish the set off with an epic like this, outstanding. Saturday at RADAR has been pretty fantastic but there's still so much to come tomorrow!
All content © Über Rock. Not to be reproduced in part or in whole without the express written permission of Über Rock.