By Jase Walker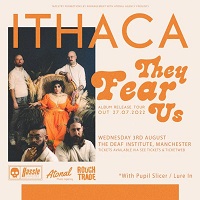 It must be a day that ends in '-y', as I'm at another gig already this week and this time in Manchester's Deaf Institute! Ithaca wasted no time getting touring in support of their latest, and absolutely bloody fantastic album, 'They Fear Us'. Bringing with them mathcore and general noisy band, Pupil Slicer for the ride and for tonight's stop, Manchester lads, Lure In.
Before starting off properly the bass player's walked up to me, sat at the back and gave me a wave before running back to the front of the crowd seemingly with the intention of starting a pit himself. I remember thinking these were a bit hard to categorise last time I saw them and that hasn't really changed, the sort of frantic, noisy playing they've got borrows bits from hardcore and mathcore, packed into an act that's loud as fuck. Their singer also takes advantage of being unanchored to the stage, marching around the floor, also coming up to the seated area for a wave all while the band behind him is kicking out some pretty filthy, almost Deftones-like stuff.
Given what we've got coming up for the rest of this show, I'd say Lure In was a pretty stellar choice for this show. They've not left a single thing to chance, everything is clearly going into this performance, not wanting to allow themselves to be upstaged by the main acts. A noisy cacophony and an energetic performance, great set.
With a 15-minute changeover which seemed a bit optimistic, they've pulled it off and Pupil Slicer are now in session. Some gloriously discordant and frantic mathcore, off-beat riffing, small ambient sections, but it's their intense sections that really sell it for me. Gotta hand it to the sound guy here, the balance of the band is pretty spot on, despite how much is going on almost all the time, I can pick out what each part of the band is doing.
Not wanting to let Lure In upstage them either, their singer's took the mic off its stand and jumped into the crowd to start screaming directly at people, love a bit of one-upmanship! Bit of a ballsy maneuver given they've had to run back up the steps to the stage, grab a guitar and continue on with the rest of the song! I love what Pupil Slicer does though when it comes to blast beats, busy riffing and smattering discordant guitar screeches all over the bloody place. Pupil Slicer has smashed it here, delicious mathy riffs and squeals, lots of screaming and a set that's barely slowed for breath. It's also been great seeing the lads from Lure In losing their minds down the front and getting a pit going for Pupil Slicer, can't put a price on that! Can't wait to see what these have in store over the coming years!
Pupil Slicer play Bloodstock next Saturday (13 August) and the ArcTanGent festival on Saturday 20 August.
Slightly delayed but Ithaca are now kicking off their headline set for tonight, all dressed in the same manner as their cover art for 'They Fear Us'. The moment the bass hits, the raw aggression of Ithaca gets properly started, filling the room with a feeling of pressure. Djamila leans into the crowd from the stage looking as if she's about to grab someone by the throat. Her uncleans are incredibly crisp, coming right over the top of the rest of the band's intense playing.
Considering how fresh the tracks from 'They Fear Us' are still to my ears, hearing them done live like this is an immense experience in its own right. The melodic elements dance around the room, bit yielding to the intense chugs behind it. Again, the sound guy has done a bang-up job with keeping everything well balanced. A bit of chatting between songs, then suddenly kicking into the next track that goes from 0 to 100 at breakneck speed. I'm genuinely sat here in awe of Ithaca's unrepressed aggression and energy, there's not a single moment in this set where it's not going hard and then some.
I'm having one of those moments where I'm kicking myself mentally for not seeing these prior to this show, I've had no shortage of chances too which makes it all the more frustrating. To say that Ithaca goes hard live is a complete understatement to what I'm watching here, I can't get my head round it! They look like they're having a great time on stage as well and it truly translates through to how they're coming across both audibly and visually. The leading singles from They Fear Us clearly strike a chord with the audience as well with the main front part of the crowd going apeshit for them (also featuring the Lure In lads again, gwan!). Stellar show, and I've got no doubts that I'll be seeing them again at ArcTanGent pretty soon: gotta get my fill, right?
The tour finishes in Glasgow tonight (Saturday 6 August). Ithaca also make two in-store appearances, at Rough Trade Nottingham tomorrow (Sunday 7 August) and Rough Trade Bristol on Monday (8 August), before hitting the ArcTanGent festival on Saturday 20 August.
'They Fear Us' is out now. You can get your copy HERE.
All content © Über Rock. Not to be reproduced in part or in whole without the express written permission of Über Rock.