By John Bedard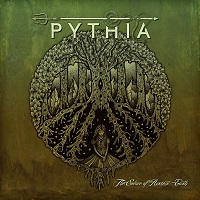 Pythia is a band that I have heard of before but never really had the chance to listen to until now. With symphonic metal having started my whole journey into metal in the first place, I was very excited to hear a band I had not before. If you like symphonic metal already you will not be disappointed in this album. It is a solid entry in the genre, but it is not world-changing either.
The vocals from Sophie Dorman have a tone that brings to mind a nice middle ground between what I have come to expect from Tarja Turunen and Floor Jansen of Nightwish, but with Sophie's own unique style as well. I also really enjoy how, in many of the songs, there is a transition between lofty sung vocals well into the higher registers that are balanced beautifully against chanted vocals that are more grounded. However, some of those higher vocals can be a little less clear and therefore hard to understand at times. This is not a deal breaker but means that fully understanding what is being said will require a little time investment.
Instrumentally, I have little to complain about: the guitar solos are fantastic with excellent complexity and complement the rest of the songs beautifully. The drums are excellent and there are even a couple short bass solos that are always a pleasure to hear. They even included some unique instruments with an almost folk metal flare that I can't immediately identify by ear but are a very nice addition and, if anything, I was wishing they had done a little more of it.
I do feel that a little more time could have been spent in post-production balancing levels for a more polished final product. There were more than a few times where I felt that vocals or an instrument would get lost in the mix. It was never bad enough to ruin the experience but was still noticed. However, when you would start to pick it out the mix would open to a beautiful vocal or guitar solo making you forget that you were noticing an issue in the first place.
I think that for the symphonic metal fan this is an album that is worth listening to. Most songs have a very nice evolution to them making each song feel like a journey in itself. Never falling into anything to repetitive. However, while each song has this nice evolution you don't really get that same feeling going from the album as a whole. Making the album feel more like a collection of short stories rather than a grand epic.
I very much enjoyed my time with this album, and I think that many others will like what Pythia has created here but I don't think this will be the album that brings new fans to the symphonic genre. Instead, this is more of a gift to the person who is already there and wants more and that person will not be disappointed.
'The Solace Of Ancient Earth' is released on Friday (17 May). You can get your copy HERE.
Pythia play The Big Red in Holloway tomorrow (Thursday 16 May).
All content © Über Rock. Not to be reproduced in part or in whole without the express written permission of Über Rock.