By DJ Monk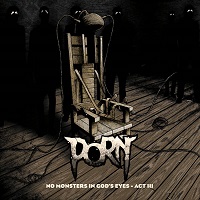 FREE PORN! OK, it's an old trick but we thought that would get your attention. Unfortunately, however, we are not talking about the soft stuff produced by the likes of Messrs Hefner and Raymond but the real hardcore stuff… the hard, grinding, industrial-grade plutonium produced by four gothic punks with one thing on their mind – and that is to unleash upon this unsuspecting Überverse an album which could well serve as the soundtrack for the impending apocalypse which the mass media would have you believe we currently find ourselves faced.
As the end part of its title suggests, 'No Monsters…' is the final part in a trilogy of concept albums, started with 2017's 'The Ogre Inside' and continued on last year's 'The Darkest Of Human Desires'. They tell the story of the serial killer Mr Strangler (also the stage persona of PORN founder and frontman Philippe Deschemin), with this series conclusion seeing him languishing in jail, facing execution and looking back on his life, while simultaneously inviting the "followers" he has recruited along the way to continue his work… which he, in turn, regards as the work of God because, as Deschemin says "if God exists everything is his and even the worst monsters are the children of God".
Now, I'll immediately admit to not being familiar with the first two albums, and so approach this ultimate instalment as a stand-alone opus – which, of course, beggars the question of whether or not it stands up in its own right? And the simple answer is, yes, it actually does. You don't need to be overly familiar with, or entrenched in, the storyline to date to appreciate and understand the dank, dreary soundscapes which 'No Monsters…' produces. Over the course of it's 13 tracks (an appropriate number, don't you think?) it weaves a dark, forbidding and foreboding aural web that draws you inexorably into its darkest recesses and the twisted minds of its creator(s). Possessed of the sense of theatricality pioneered by the likes of Andrew Eldritch and revived more recently by Tobias Forge, Deschemin evokes dramatic twists and turns that many have attempted to create within the confines of an audio recording but surprisingly few have managed to achieve to such effect.
Deschemin refers to PORN's musical style as "murder rock". It is a phrase akin to the "murder ballad" epithet appended to the works of the likes of Nick Cave and Adam 'Nergal' Darski's Me And That Man side project. And, in many ways, Porn inhabit that same dark realm, revelling in the mire of the dense, literate soundscapes they produce. Obviously, the sound is much heavier, more akin to Type O Negative and Nine Inch Nails than The Bad Seeds, but the lyrical miens tread similar pathways, with Deschemin proving himself to be a truly literate lyrical craftsman when it comes to driving his tale forward to its ultimate grim conclusion.
'No Masters In God's Eyes – Act III' is released on Friday (27 March). You can get your copy HERE.
All content © Über Rock. Not to be reproduced in part or in whole without the express written permission of Über Rock.