By DJ Monk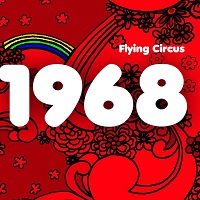 German quintet Flying Circus unashamedly seek to evoke the spirit of the year which gives this, their latest album, it's title, both musically and thematically. While not a concept album in the purest form of the word, each of the nine (and a bit) songs is linked by an event which happened in 1968, hence titles such as 'New York' and 'Memphis', both of which address the assassination of Martin Luther King, 'Derry' (the birth of the Northern Ireland civil rights movement and the subsequent four-decade long 'Troubles') and 'Mỹ Lai' (the infamous massacre of South Vietnamese civilians by US troops which heavily fuelled calls for America to withdraw from the conflict on the archipelago).
Musically speaking, '1968' also fully evokes the era in which it is both rooted and seeks to recreate, doing the latter with aplomb and deft retro panache, combining elements of 'flower-power'-era psychedelia with power-blues-fuelled classic rock and the nascent prog meanderings of the likes of early Pink Floyd, Yes and Gong. While there is plenty going on, especially in terms of layering and thematic development, it's also in no way over-complicated – or boring, as so many modern-day prog albums, and especially those seeking to evoke a retro feel, can drag on the ear and lead you to look for distractions.
Cleverly, the band also make no judgement on the events referenced in the songs: they merely relate the events and their impact in subtle ways which are neither confrontational nor divisive. 'Derry', for example (a track I was particularly interested in, for obvious reasons), is a neat little instrumental violin piece (later echoed on the beautiful and powerful 'Mỹ Lai'), mournful yet vigorous and all the more appealing for its paucity: there's certainly no John Lennon or Paul Hewson-style politicization, and that is to be welcomed. The only exception to this rule, perhaps, is the pivotal central track, 'The Hopes We Had (In 1968)', which manages to combine the optimism of the period with a sense of mournful regret at how the year actually evolved: in fact, it could be said that it is something of a mirror for the times in which we now find ourselves.
Despite having grown up listening to the likes of Floyd, Tull and especially Yes (I could never get into Genesis, in any of their incarnations), and then later prog revivalists such as It Bites, Marillion and the criminally-underrated Pendragon, I had lost faith in prog as a genre, finding it all a bit too samey and up-its-own-arse when placed in the hands of the likes of Devin Townsend and Steven Wilson. However, Flying Circus have helped to reinvigorate my faith in it as an artform capable of being challenging and entertaining in equal measure, especially when delivered with such compassion and erudition.
'1968' is released on Friday (27 March). You can get your copy HERE.
https://www.facebook.com/FLYING-CIRCUS-117944154951115/
All content © Über Rock. Not to be reproduced in part or in whole without the express written permission of Über Rock.