A three-act bill is the prize for the latest of the long trips down to the capital in search of gigs. After the rather less melodic Petrol Girls a few days previously, it's time for the legendary 100 Club's January Blues festival, with New York City's finest Popa Chubby taking the baton as the evening's headliner. Would he and his support be worth the 24-hour round trip? It was time to find out…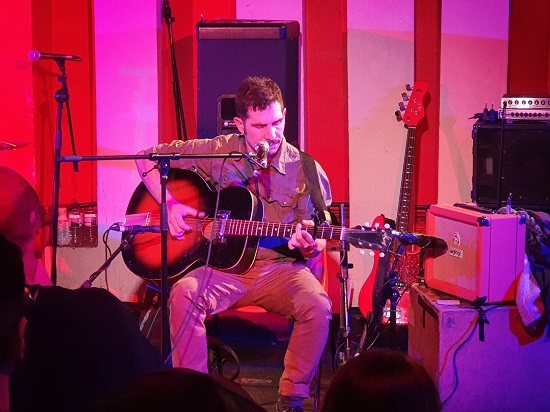 Our first act is Italian country-blues artist The Blues Against Youth, a solo act brandishing an acoustic guitar and a stomp board for a touch of percussive backing for himself. The venue has a decent crowd in as he takes to the stage just after doors and his presence is actually quite eye catching, despite being sat in order to play. He is an accomplished artist, weaving webs of tales as he works through his set with vocal prowess and a melodic approach to his picking, in the manner that some more established folk artists may turn their set into more of a tale than a mere set of songs and there is a decent level of applause for him as he works to the end of his story, cut short as he is told he has run out of time and seemingly slightly taken aback by this. A very enjoyable set from a talented musician.
The Ron Sayer Jr Trio take to the stage and get straight into some old school rhythm and blues, in a highly accomplished manner. Ron is clearly an experienced guitarist and song writer, with clear ease of being in the limelight as he talks between songs. His ability both with his guitar and vocally are at a high level, with his drumming and bass support playing their parts in an engaging and highly enjoyable set, filled full of blues riffs mixed in with the aforementioned rhythm and blues licks. The songwriting is strong and the band are well rehearsed, taking to their tasks with glee,  while it's also quite clear that Ron is the bandleader, not just by name but in the way he holds himself and performs through the set. We get half an hour of some top notch entertainment as the crowd builds up towards capacity and their earn their just reward of loud applause and cheers that come both at the end of individual tracks and the end of the set.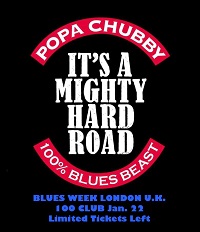 On to the blues enigma that is Popa Chubby then, who takes to the stage to great applause and cheers from the crowd. Popa is clearly held in great regard by a good deal of the people in the busy crowd, with the other bands even finding themselves close to the front and enjoying the musical tapestry being woven in front and around us all. He is a hugely talented guitar and vocalist, while his backing band perform to an exceptionally high standard, providing more than adequate support to the blues being that is our headline act. Given Popa Chubby hits his big 30 as a performer under that moniker this year, it's of no surprise just how talented he is, to have not just survived in the music business for as long as he has, but to also be so adept, successful and relevant as he still is to the scene. His message between songs is one of positivity and of love, telling us of his forthcoming marriage ceremony on Valentine's Day this year, while speaking about having a positive impact on people, a message that the world could do well to hear in the current times.
His set is a good mix of originals and his own take on some classic songs, with the originals a mix of his older tracks as well as a couple from his forthcoming album, including the title track from the new one 'It's A Mighty Hard Road'. The covers range from across the board, each with Papa's own take of the classic, with the likes of Jimi Hendrix's version of 'Hey Joe' finally grasping the attention of some people that seemed more intent on talking to each other loudly than paying attention and respecting the ability and efforts of Papa Chubby and his backing band. Equally stunning takes on 'Miserlou' and 'Somewhere Over The Rainbow' appear in the main body of the set, while we are blessed with a single encore in the form of a well performed take on The Rolling Stones' 'Sympathy For The Devil', complete with excerpts of 'Take A Walk On The Wild Side' and 'Gin N Juice', amongst others in a highly talented rap segment interspersed in the middle of the song bringing the house down in all the right ways to close the evening. A spellbinding way to finish off an enchanting evening of blues music.
All content © Über Rock. Not to be reproduced in part or in whole without the express written permission of Über Rock.