By Phil Cooper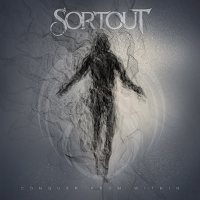 Metalcore can be a divisive genre. Very much a love/hate subject within the wider metal community. Some choose to champion the stylistic elements that bands are able to bring together and blend into a hard-hitting yet accessible delivery, while others look down upon it as sub-par and not worthy of mention in the same breath as other genres. Entry level for new metal heads at best, at worst I've heard the genre described as untalented poser metal. For myself, I fall very much into the former category. I like it, it offers a lot of scope for musical development and some of the riffs available are exceptional.
Five-piece Austrian metalcore outfit Sortout are back with their second full length album, 'Conquer from Within'. Since their formation in 2008 they've brought their brand of metalcore to an ever growing fanbase thanks to high ranking support slots and festival appearances. From the moment the first track, 'Undertow', kicks off you can understand how these guys have earned their fanbase. It tears straight in with aggressive vocals backed up with a pounding rhythm section and a twin guitar attack delivering both engaging melody and crushing riffs. As an album opener it provides the ideal introduction for the following eleven tracks. There's a furious pace highlighting the intense energy matched with layers of technical ability exemplifying the individual musicianship within the band.
Taking up the intensity from the opener is 'Relentless'. Much like the previous track, the stylistic elements of metalcore are all on display and executed with a high level of technical ability. Once more the aggressive vocals take the foreground in the mix with the colossal sounding drums and bass forming a foundation. The guitar work weaves within the mix allowing for harmonised melodies to grab the listener and the riffs to back up the vocal delivery.
'Illusions' forms the lead single for the album and is a definite highlight of the record. While retaining a true to genre metalcore sound, there's more scope to hear the unique sonic delivery of Sortout. While continuing with a high energy, frantic delivery, the vocals expand to include more melodic harmonies and range in dynamics from the more aggressive sound that have been so far on offer. The guitar work takes a more central role, providing a pivot point to guide the structure of the track with some excellent lead lines. While the rhythm section continues to be a driving powerhouse. A clear choice for single as it provides a showcase for both the bands ability and their chosen style.
There are plenty of further highlights to be found within this album for those who enjoy this style of metal. Tracks like 'Blind Eyes' with it's catchy guitar lines and expansive sounding vocals pulling the listener in and engaging from start to finish. 'Paragon of Misery' is a five-minute belter opening with a rain effect and simple guitar line that morphs into a heavy weight bruiser. Right up until closing track 'A Journey from Within', the listener is pulled right in and given a tour de force in metalcore.
As stated, there's no mistaking the chosen genre of these guys, they've chosen their path and have nailed it. That's not to say that this is straight forward, paint by numbers metalcore. Sortout have definitely been able to provide their own twist on the genre by adding in more technical layers and deliveries. This keeps the sound fresh throughout and will surely give more fuel to their ever growing fanbase. If, like me, you're already into the genre, then this will add more to your collection. However, if metalcore doesn't appeal to you then this will be a tricky album to get into. Give it a chance though, you may well be surprised and it's certainly worth your attention.
'Conquer from Within' is released on 21 February. You can get your copy HERE.
All content © Über Rock. Not to be reproduced in part or in whole without the express written permission of Über Rock.