Words by DJ Monk. Photos by Dana Osgood.
The Duke of Spook, Wednesday 13, will be returning to the Über Kingdom of Rock 'n' Roll in a few weeks' time, as special guest on the European leg of Static-X's 'Wisconsin Death Trip' 20th anniversary tour.
He and his band have already completed the first US dates of the tour, and Dana Osgood went along for the ride, capturing the band in all their OTT glory on three of the dates – The Observatory in Orange County, Catch One in LA itself and The House Of Blues in Las Vegas:
Wednesday 13 will also release his latest album, 'Necrophaze', on 27 September, via Nuclear Blast. This will be the first Wednesday 13 album to feature guest spots, which include performances by Alice Cooper, Roy Mayorga of Stone Sour, Alexi Laiho of Children Of Bodom, Cristina Scabbia of Lacuna Coil and Jeff Clayton of legendary punk bands ANTiSEEN & GG Allin's Murder Junkies.
"To say we are excited about this release would be an understatement," Wednesday told us.
"We have re-built and Frankenstein-ed an all new Wednesday 13. This is the next chapter, the next experience, the next phase into our world…Enter the Necrophaze.
"This is the most elaborate, horror themed album I've ever released under the name Wednesday 13. Channelling the atmosphere of early '80s horror films, TV shows, cartoons and movie soundtracks the 'Necrophaze' was complete. To add a little more blood to the party, we had the complete honour of having the Godfather of shock rock, the legendary Alice Cooper. Alice is a guest doing the introduction to the album and the title track, 'Necrophaze'. We wanted to give the listener the ultimate listening experience as if our band was the soundtrack to a horror film.
The artwork for the CD and vinyl is a visual guide to the songs, and the live show will be the living breathing horror movie version. There will be a Wednesday 13 action figure, music videos, movie soundtrack trailers, commercials and more all on the way with the release of 'Necrophaze'. The artwork and packaging is a tribute to the classic art and packaging from my favourite time of the 1980s. So welcome to the party…but bring your own blood!"
The UK leg of the 'Wisconsin Death Trip' 20th anniversary tour is as follows: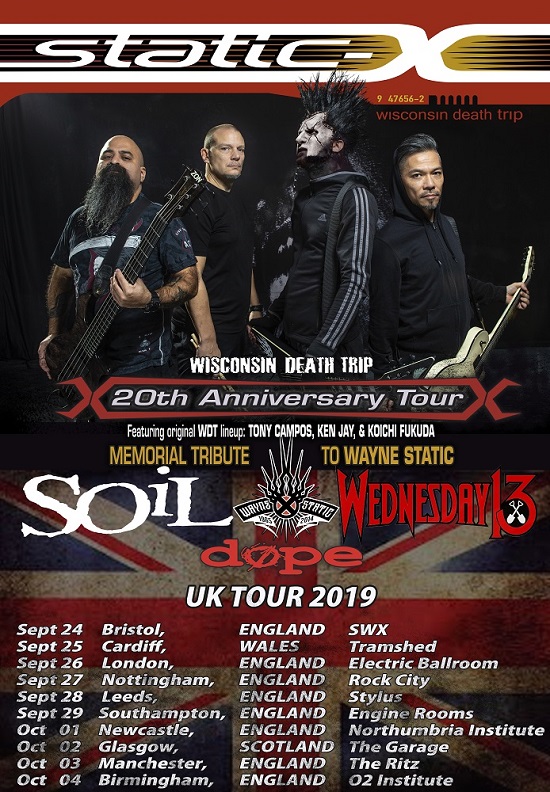 www.facebook.com/officialwednesday13
PHOTO CREDIT: All photos (c) Dana Osgood/Cruella Photography/Über Rock. Not to be downloaded, reproduced or otherwise shared without the express written permission of the copyright holder.
All content © Über Rock. Not to be reproduced in part or in whole without the express written permission of Über Rock.