By DJ Monk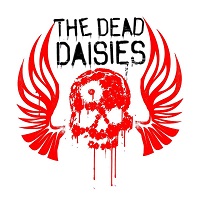 The worst kept secret in rock 'n' roll is finally out: both singer John Corabi and bassist Marco Mendoza are OUT of The Dead Daisies, to be replaced by Glenn Hughes.
While the band revealed the news with the release of a new song, 'Righteous Days', on their website yesterday (Thursday), stories of the change in line-up had been circulating for the past two weeks, with none of the parties concerned either confirming or denying the reports. However, the official announcment is perfect in terms of its timing, following as it does Hughes' headlining appearance at last weekend's Stonedeaf Festival. Hughes, of course, also has a series of forthcoming 'Classic Deep Purple' shows in November, rescheduled from earlier in the year.
Reports that things may not have been quite right in the Daisies camp surfaced as early as last summer, when the band cancelled their appearance at the Steelhouse Festival, allegedly due to the adverse weather conditions on the day they were due to perform. Among the social media stories which circulated at the time were reports that some of the band members had been prepared to take taxis from the Midlands, where they had played the previous evening, to Ebbw Vale in order to play the show (their tour bus was already on site), while others simply refused to budge from their hotel rooms.
Reports of a potential change in line-up emerged very shortly after TDD revealed that they were to release an album of covers, 'Locked And Loaded'. With the band having already confirmed that they were working on a new studio album, the inevitable question asked by many fans was, quite naturally, "why"? Yes, they had included cover songs on both their albums (most impressively with their stunning version of 'Fortunate Son') and live, but an entire album's worth?
The latest line-up of the band is due to enter the studio later this year to finish recording the aforesaid new album. To us, the operative word in that sentence is "finish". They've also promised live dates in 2020.
Let's face facts. As the band have said in their official statement, The Dead Daisies "are a musical collective, whose members come together through a common love for great rock music. It's a living, breathing, musical organism with the credo rock is indeed alive and well!" They have featured a myriad of extremely talented and acclaimed musos in their line-up during their seven-year career, including alumni such as Richard Fortus, Dizzy Reed, Darryl Jones and Jon Stevens. But it could be argued that, with the most recent incarnation of the band they had found one which had truly gelled…
One thing is not in doubt: this week's announcement has split Daisies fans straight down the middle. Many believe it is a retrograde step, seeing them lose the dynamic of having a "second frontman", in terms of the ever-charismatic Mendoza, whose character and individual vocal ability had come to be seen as a counterfoil to Corabi. On the other hand, there are those who see the recruitment of Hughes – despite his track record of letting his individual ego take over bands and causing them to implode in fairly short time scales – as a hugely positive step. You'll know from the tone of this article where ÜR stands… but, we're prepared to wait and see.
www.facebook.com/TheDeadDaisies
All content © Über Rock. Not to be reproduced in part or in whole without the express written permission of Über Rock.