By Jim Rowland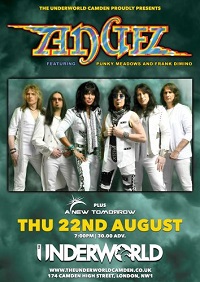 Signed to Casablanca Records on the recommendation of Gene Simmons, Angel released 5 cracking studio albums and an equally cracking double live album between 1975 and 1980. Dressed in flamboyant angelic white outfits, they were marketing as the antithesis of the then 'demonic' KISS, but despite some serious financial backing and an equally flamboyant stage show, a major commercial breakthrough eluded them, forever consigning them to cult status, much like their equally great contemporaries Starz. Angel never made it to the UK in their original tenure, but last year saw Angel music performed live for the first time here when key members Frank DiMino and Punky Meadows performed a run of European shows under the not very catchy name of 'Punky Meadows and Frank DiMino of Angel'. The show that I caught, here at the Underworld less than a year ago, was awesome for any fan of Angel. This time, they're back simply under the banner of Angel, and with the white outfits back in action too. With Starz having performed here four years ago, it also means that for those of us with a particular love for this type of American rock, the 'holy trinity' of KISS, Starz and Angel can now be officially ticked off on the bucket list.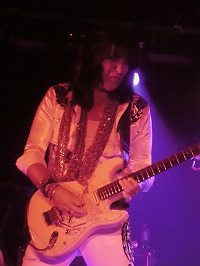 Dry ice billows from the stage as Angel launch into opener 'On The Rocks', which kicks off a set that spans their entire recorded output well, with tracks featuring from every one of the albums, including their take on 'All The Young Dudes' from the live album. Last year there were a few more recent solo efforts shoehorned in, which weren't bad, but this time it's pure vintage Angel from start to finish. These really are quality tunes, with all the essentials covered like 'Can You Feel It', an epic 'The Fortune', the superb punky pop/rock of 'Wild & Hot', 'White Lightning', 'Any Way You Want it' to name but a few. Another pop/rock classic 'Don't Leave Me Lonely', as it was last year, is a real highlight with the crowd passionately singing along to the point where the band actually revive the song again after it has finished! A killer closing section sees 'Feelin' Right' and the anthem that is 'Rock and Rollers' keeping the crowd singing before the band return for an encore and save the best till last with a majestic rendition of 'The Tower'.
Frank DiMino's voice, it has to be said, is still incredible and in amazing shape, whilst Punky Meadows still slings the guitar with the best of them. Both seem like they frequent the same high quality wig emporium that KISS do these days, but that's all part of the rock'n'roll pantomime. The KISS comparisons would have been frequent back in the 70's, and still seem apt today, especially as KISS performed here in London just last month with a spectacular show at the O2. Tonight saw Angel not at a huge arena with a gargantuan stage show, but on a club stage in front of maybe 300 people with dry ice, white outfits and a backdrop the only props. But this show was every bit as good.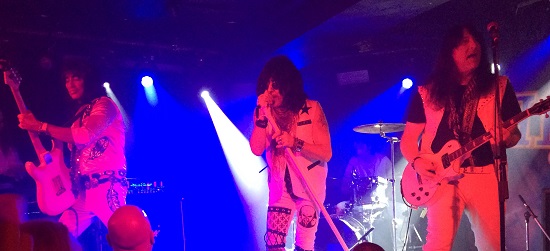 Angel's new album, 'Risen', will be released on Cleopatra Records on 4 October.
PHOTO CREDIT: Photos by the author.
All content © Über Rock. Not to be reproduced in part or in whole without the express written permission of Über Rock.