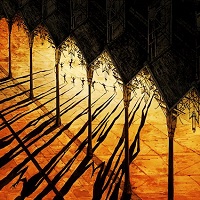 I always find it immensely interesting to hear when an artist takes a big step in a different direction from where their previous musical work has been, as in the case of Perturbator. While James Kent, as Perturbator is known off stage, has a background as a black metal guitarist, synthwave is a pretty big departure from there and there's always an interest in whether the artist can amalgamate successfully the various different influences they have, whether they continue with an entirely retro feel or, as per 'New Model', his 2017 EP, take a big step in quite a different direction from his roots as this particular incarnation or previous ones.
As can be expected from his previous work, there is both a high production level with his previous work both in black metal acts and in the gaming world with the Hotline Miami series of games peeking through at times in tracks such as album opener 'Reaching Xanadu', which feels as much of a post-metal track as it does synthwave and while there are different feels across the album, there is a definite sense of further pushing out the boundaries and exploring quite what can be done without fully stepping beyond the boundaries of what he has done in the past.
'Excess' is one of the lead singles and one of my picks from the album, containing three almost distinctly different feels within the same track. I can almost detect a post-punk feel in the main hook and drum approach, though the softer, darker end of the ethereal also, whilst still meshing in the synthwave and 80s retro-ism he has drawn a good reputation for, without staying within the boundaries of solely that feel. 'Dethroned Under a Funeral Haze' almost has an industrial feel at times, following the theme of not being restricted solely within the synthwave box, whilst showing a continued good command of these other influences in the way he meshes them together seamlessly. The two singles may be at quite different BPMs but the way that the album feels as a whole means that neither feels in any way out of place.
For music that can at times be deliberately jarring when so many different aspects are merged together, it does not feel that way in this release. 'Lustful Sacrements' is a clear indication of quite what can be done within a genre when you push out at all sides of the box, with a strong sense of experimentation, feelings of tension and the rest combining to create a soundtrack to the dystopian times we have lived in worldwide across the last year, albeit maybe not in quite the cyberpunk reality that this release would suit so well. There is a great depth of storytelling in the tracks, with the release as an entirety feeling like a journey and it's one that should further endear him in the hearts of people across the board in their music tastes. A top-notch release with a quality and depth of layering and ideas that a lot of artists in the overspilling synthwave genre could not even begin to grasp.
'Lustful Sacraments' is released on 28 May. You can get your copy HERE.
Perturbator is due to tour in November, with dates scheduled as follows:
Friday 5 – London, The Electric Ballroom

Saturday 6 – Glasgow, St Lukes

Sunday 7 – Manchester, Academy 2

Tuesday 9 – Dublin, Opium

Wednesday 10 – Bristol, SWX
All content © Über Rock. Not to be reproduced in part or in whole without the express written permission of Über Rock.