By Jonny Bakes
I was one of the many who were excited at the prospect of Karnivool returning to ÜK shores after what feels like far too long, but alas, the world had other plans and the ÜK tour has been forced to be pushed back to 2022. Instead, we're able to celebrate an entire decade since 'Sound Awake' was released (yes, it really was that long ago!) with a, now familiar, video stream. What better way to spend a Wednesday night than watching these Aussie lads play through my favourite album from cover to cover?! With four time slots available to let fans from around the world pick a convenient time slot, I find myself on the 8pm ÜK slot and raring to go…
After a brief video introduction, the band launches into my favourite song off my favourite album – 'Simple Boy' featuring what appears to be an electronic glockenspiel to open the track with that simple opening. I quickly realised that the interesting video effect applied to the front-on camera shots is in fact achieved through a curtain of sheer material hung directly in front of the band which, while works very well visually, must be an interesting experience to play in front of! Unlike some live streams, this appears to be recorded in a regular venue which does offer plenty of camera angles, including a balcony shot for plenty of variety which is good to see!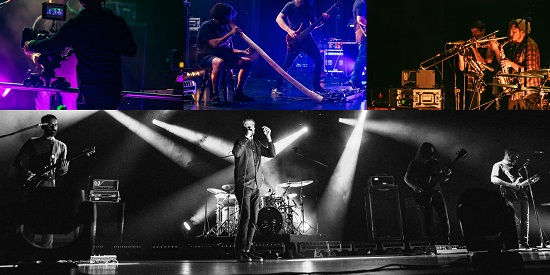 With the title of each track being displayed before each track we work our way through the album via 'Goliath' and 'New Day' before arriving at our next stop, 'Set Fire to the Hive'. This heavier turn is accompanied by dramatic red lighting and a serious dose of energy as the whole band steps up their performance for this one. Drummer, Steve Judd, stands out at this point as he beats seven shades of shit out of his kit while the rest of the guys vibe on that energy! But after that dose of energy it's time to dial things back to a more gentle pace with 'Umbra'; no more cloth curtain at this point though, so the full auditorium is visible now!
Another favourite track is heralded by that fantastic bass line, that's right it's 'All I Know' which is closely followed by 'The Medicine Wears Off' but of course, you'd know that if you're at all familiar with this album! But after we hit 'Illumine' it's time for the back-to-back epics from 'Sound Awake' totalling nearly 25 minutes between them! Starting with 'Deadman' this part of the show becomes really encapsulating to the point where I briefly forgot that I was sitting on my own sofa. This is followed by a very brief interlude with a bit of behind the scene footage before moving into the incredibly gentle introduction for 'Change' which sees vocalist, Ian Kenny, make his way to the seated part of the auditorium to perform back at the band members on the stage. And no wonder he had to make some room on the stage because his space has only gone and been taken up by a didgeridoo player! This adds some great depth to this track and makes for a mighty fine lead into the encore…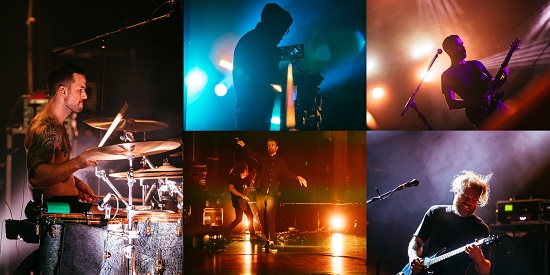 But wait, what's this? Holy shit, a track that I've never heard before, 'Fade'. This is a completely unexpected development, and the crowd of one in my lounge goes mad for it! It's a pretty heavy numberwith vocal lines from different band members intertwining with each other to create an echo chamber effect. While I initially thought this to be a new one, it turns out to be a huge throwback to their debut EP 'Persona'. After this, we're back to put 'Sound Awake' to bed with the final track 'Roquefort' which naturally includes the horns section to make sure we get the full effect! Then via a brief stop on 2013's 'Asymmetry', I'm even more excited because here's another song that's new to me! And this time it's actually something that is genuinely new, or at least unreleased by all accounts – 'All it Takes' which is possibly the best way to round off this performance and gives a glimmer of hope of the elusive fourth album! All in all, a great way to spend a Wednesday night, and definitely serves to make me even more keen for Karnivool's ÜK return in 2022!
Karnivool are scheduled to play the following rescheduled dates next May:
Thursday 19 – Bristol, SWX
Friday 20 – Manchester, Academy 2
Saturday 21 – Birmingham, Institute
Monday 23 – Glasgow, Garage
Tuesday 24 – Leeds, StylusWednesday 25 – London, Forum
Photographs courtesy of Karnivool.
All written content © Über Rock. Not to be reproduced in part or in whole without the express written permission of Über Rock