By DJ Monk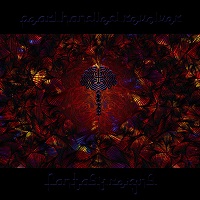 On their decade-long musical adventure to date, Bedford quartet have carved a path for many of the psychedelic blues revivalists who have followed in their footsteps, in the process creating for themselves a niche within the blues-stoner marketplace that veers very much towards the darker side of the tracks, yet at the same time has resulted in joyous musical celebrations which enthral and enrapture the audience. And it is a road along which they have walked another significant distance with this stunning fourth studio full-lengther.
'Fantasy Reigns' is the sort of album that pulls the listener in many different directions: it's contemplative yet energetic, morose yet vibrant, danceable yet thought-provoking… the sort of album that makes you want to raise your pint glass in ecstatic celebration while at the same time setting fire to that aniseed-flavoured sugar lump of introspection. It's an album filled with huge, sweeping soundscapes yet possessing at its core a deep sensibility of the primal power of good old-fashioned rock 'n' roll. One which nods heavily to the past yet stamps its foot defiantly as living in the here and now.
From the smooth swagger of opener 'In Your Blood', with its charismatic vocal and smooth as silk sheen, through the suggested noir violence of 'Machine Gun' to the huge sweeping space rock atmospherics of 'Belly Of The Whale' and the stoned-as-fuck hip sway of 'Something Going On Up There', 'Fantasy Reigns' moves with an elegance and inherent sense of hypnotic relaxation that is as laconic as it is eloquent. Moods develop and then pass, only to return again, as huge swathes of organ underpin incisive, almost regretful lyricism, while guitars alternately sit gracefully in the background before cutting through with the precision of a surgeon performing open heart surgery.
If you like your rock 'n' roll infused with the spirit of Jim Morrison, Dr John, Cohen and Waits, coupled with the intensity of Kyuss, the bluesiness of The Black Crowes and the ambience of Hawkwind, then fantasy should most definitely reign on your death deck as soon as absolutely possible… Me? I'm away to find one of those there sugar lumps and watch Belfast burn tonight, with this as my soundtrack.
'Fantasy Reigns' is out now. You can get your copy HERE.
www.facebook.com/pearlhandledrevolver/
All content © Über Rock. Not to be reproduced in part or in whole without the express written permission of Über Rock.