By Jim Rowland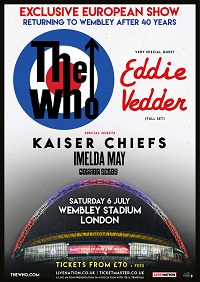 Tonight sees Pete and Rog bring the modern day Who back to Wembley, home town of one Keith Moon, to play Wembley Stadium for the first time since 1979, and with an orchestra and Eddie Vedder in tow, it promises to be a special night for this one-off European date.
Judging by the amount of Vedder/Pearl Jam T-shirts on display as I walk up Wembley Way, it's clear Eddie Vedder is a popular draw, and indeed he goes down extremely well, with some particularly animated fans occupying the very front seats at front of the stage. His set is acoustic flavoured, he has a bit of orchestration himself, and knocks out a set featuring quite different versions of many Pearl Jam favourites and a few covers thrown in for good measure. So Pearl Jam songs such as 'Alive', 'Wishlist', 'Better Man' and 'Porch' mix it up with covers of Queen's 'Crazy Little Thing Called Love' and Jerry Hannan's 'Society', whilst Simon Townshend hits the stage at one point for a rendition of his own 'I'm The Answer'. Vedder's voice is in top shape, and despite the more laid back, acoustic approach, it's a commanding performance. It's not the last we will see of him tonight either.
The Who hit the stage slightly late, with Pete Townshend, resplendent in navy blue boiler suit, asking if anyone needs their sink unblocking, in true Townshend style. With orchestra fired up they then launch into a superb run through many of the highlights of 'Tommy', with 'Overture', '1921', 'Sparks', 'Pinball Wizard', 'Amazing Journey' and 'We're Not Gonna Take It' all featuring, and benefitting from the presence of the orchestra. A great 'Who Are You' and 'Eminence Front' jump forward in time, and the live debut of brand new track 'Hero Ground Zero' brings things bang up to date. Presumably from the forthcoming new album, the Who's first in thirteen years, on a first listen it sounds just fine.
'Join Together' is a real highlight for me before the orchestra take a short break and the basic band deliver 'Substitute' and 'The Seeker', Roger and Pete get together for a very stripped down acoustic version of 'Won't Get Fooled Again', and the strings re-emerge for 'Behind Blue Eyes'. As with the 'Tommy' highlights at the start of the show, the orchestra get back into action for a run through some corkers from 'Quadrophenia' to almost round the show off.  'The Real Me', 'I'm One', 'The Punk & The Godfather' (with Eddie Vedder guesting), and a rousing '5.15' all impress. Townshend gives a powerful solo acoustic rendition of 'Drowned' before 'The Rock' and 'Love Reign O'er Me' wrap up the Quadrophenia section in stunning fashion. As with the 'Tommy' section at the start of the show, the addition of the orchestration give the whole thing, dare I say it, a slightly more prog feel in places.
There's no encore, so the whole concert is wrapped up with 'Baba O'Reilly', a huge and superb way to finish, and with the strings handily available, the violin solo is restored. With a catalogue like The Who have, there are of course countless songs we may have wished to hear but didn't. I was surprised there was no 'My Generation' but didn't really miss that to be honest. Picking a Who set must be a very difficult task – even picking which ones from 'Tommy' and 'Quadrophenia' to miss out is a task in itself, but the set tonight left little room for complaint.
Since the death of John Entwistle, Townshend and Daltrey have reinvented the Who as a live act well. The true Who effectively died with Keith Moon all those years ago, and the modern day Who is kind of a Rog & Pete's 'Who Review' which works a treat. Now in their mid-seventies, both are amazingly spritely, and Daltrey's voice has held up extremely well, better than a fair few huge rock singers that followed him and made their name in the 70's. With a new album on its way, it seems there's mileage in The Who yet, as they keep 'moving on'.
All content © Über Rock. Not to be reproduced in part or in whole without the express written permission of Über Rock.