By DJ Monk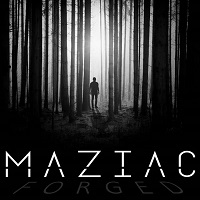 There has been a lot of discussion in various media outlets of late, especially in the wake of some of the groundbreaking international acts who appeared at the recent Download festival, about the importance of diversity in metal. London-based prog metal neu-comers Maziac certainly fit the international diversity bill, with frontman Tony Best being half English/half Salvadorean and brought up in The Netherlands, and drummer Marc Vachon being a Canadian émigré: hell, even the only British native in the band, bassist Tim Stokes, is a blow-in from Bedfordshire (that does count, doesn't it?)!
Following on from last year's impressive debut EP, 'Parallel', Maziac have kept up the moment with this even more impressive first full-length offering, which present us with eight tracks of musical magic blending all the best elements of alt-rock, modern prog and outright metal, ploughing in the process that will appeal to fans of tech-metal gurus such as Architects as it will to those of Gojira or Cancer Bats.
They set their stall out right from the off with the blistering 'Symptomatic', which lives up to its title as a true taster of what is to come: concrete-solid beatdowns meld into seering melodies, which in turn are juxtaposed with an excellent use of atmospherics, as the tune dodges in and around the listener while all the time presenting a cogent, coherent homogeneity to the aural intent. The rhythms are rock solid, the percussion precise, the guitars cut and thrust with the effectiveness of an Olympic-grade swordsman and best's vocals perfectly match both the intensity of the album's darker moments and the clarity of its lighter intermissions.
Too many of the new breed of prog/tech metal bands emphasize musical ability over the emotive power of what they are supposed to be doing, and that is tugging at those very emotions they seem determined to expunge. Fortunately, there are bands like Maziac who manage to walk that fine line between balancing technical ability with emotional appeal, while at the same time drawing deep from the well of the entire metal spectrum to ensure that it is difficult to slot them neatly into a specific pigeonhole. They intermingle moments of hardcore anarchy ('Cortisol'), with nods to nu-metal ('Prisoners') into huge swathes of grooving, dancefloor filling anthemics ('Escapism' or the appropriately titled 'Allure', which even has a brief nod to Slayer at the end), with the overall effect being of a complicated, diverse album that also appeals at the most basic of levels, demanding additional exploration yet also satisfying on even the most cursory of listens.
'Forged' is out now. You can get your copy HERE.
Maziac play 229 The Venue in London, with Black Orchid Empire, Hypophora and Before The Sirens, on Thursday 8 August.
All content © Über Rock. Not to be reproduced in part or in whole without the express written permission of Über Rock.