By Tim Bolitho-Jones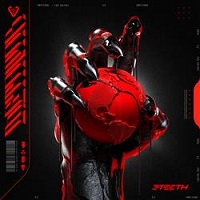 Ever wondered what happened to the kids that grew up listening to Marilyn Manson and Rob Zombie? If so, you may find the answer in 'Metawar,' the third album from Los Angeles industrialists 3Teeth. A pummelling blitzkrieg of raging synths, percussive power chords and sneering vocals, it'll satisfy anyone who likes their metal sporting knee-high New Rocks and a ridiculous number of facial piercings. Along with Combichrist, these guys are probably the best chance for industrial to cross over to the mainstream in years and this record will almost certainly be the background to a few ecstasy-fuelled nights out for Goths across the world.
Opening track 'Affluenza' for instance is utterly monstrous. It's a massive opening salvo as loud and aggressive as dismantling a T-800 with a steam-powered jackhammer, packing the sort of riffs that would have once made Rammstein jealous. The early-album duo of 'American Landfill' and 'President X' meanwhile are accessible cuts of raw sonic violence. They're heavy enough to get the moshers surging towards the front but also have tremendous dancefloor potential. Not for the nicer nightclubs of course, but your sordid Camden warehouses are going to go nuts.
'Altaer' changes things up a bit by slowing down a fraction, the down-tuned riffage relaxing into a nihilistic stomp. Placing it just before the halfway point was a good move, especially when it's followed by 'Time Slave,' which flirts with melodicism even if it doesn't fully embrace it, the two songs nicely complimenting one another. 'Bornless' though is arguably the highlight; a three-minute slammer that packs a mighty chorus and a savage, blood spitting vocal performance from singer Alexis Mincolla.
That aside, there's a memorable finale with their cover of 'Pumped Up Kicks' by indie-rockers Foster The People, taken apart and rebuilt with a shiny metal exoskeleton. You could easily mistake it for one of their own if not familiar with the original and as the lyrics revolve around teenage mental illness, it fits in nicely with the angst-ridden drama of their own material.
Strangely though, despite sounding very similar to their heroes, 3Teeth still manage to establish an identity of their own. The Manson/Zombie worship is definitely present, but as so few bands are drawing from that particular well nowadays they stand out like a live parrot at John Cleese's house. Besides, the God Of Fuck has been phoning it in for years now and Zombie seems more interested in film making, so it's nice to hear a band like this actually giving a crap about what they do. Dust off that floor-length leather jacket, put in different coloured contact lenses and get ready to sweat your make-up off in a rave-metal party like it's 2001 again.
'Metawar' is out now. You can get your copy HERE.
Look out for our review of 3Teeth supporting Ministry in Birmingham, coming this weekend.
All content © Über Rock. Not to be reproduced in part or in whole without the express written permission of Über Rock.