By Jonny Bakes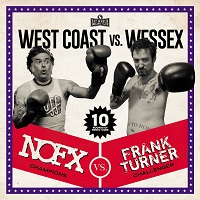 NOFX have been up there with my favourite bands for years, with their short snappy songs and super relatable songs about generally just being a fucked-up waster, it was a soundtrack to my teens. Finding out they had some new tunes coming out got me all excited to get back into that frame of my mind, but it turns out this isn't just another NOFX release. Instead this is a collaboration with Frank Turner, who isn't the dude who has a band called The Rattlesnakes (I can't be the only one to make that mistake, right?), where they cover each other's songs and put their own unique twist on them. It's an album concept I've seen quite a few times (Alestorm/Skálmöld is the first to spring to mind) and it's one that often yields some pretty interesting results! This is another album being released on Fat Mike's own record label, Fat Wreck Chords, which has hosted many great punk bands in its time (including Lagwagon and releases from Rise Against). A short diversion is necessary to mention the ridiculous documentary 'A Fat Wreck' which is possibly the only film you'll find on Amazon Prime that depicts a puppet being spanked by a dominatrix…
Anyway, back to the album – Naturally the first thing I had to do was get myself familiar with the Frank Turner songs being covered by NOFX in the first half of this album, which includes the excellently titled 'Thatcher Fucked The Kids'. The former frontman of Million Dead has a pretty mellow acoustic style, which I'm interested to see applied to some NOFX songs later and also pretty intrigued to see these tracks get punked up by NOFX. I expect that this unlikely combination will bring fans of each camp together to experience the other, so I should probably also give the Frank Turner fans a quick overview of what to expect from NOFX. These Californian punks have fast paced punk songs (with a hint of ska/reggae) about living to excess fronted by the unique, almost nasally, voice of Fat Mike.
So just how well do these clashing styles work? Pretty well I reckon! It's pretty refreshing to see such different takes on these tracks, with NOFX taking sombre acoustic songs and turning them into these aggressive, venomous numbers. Whereas Frank takes those tongue-in-cheek scathing tracks and flips them on their head to give them the opposite vibe – like the tale of Bob the punk who was told he had to stop drinking which takes a more sombre turn when it's slowed down, or 'Perfect Government' which goes from being really aggressive to a jovial folk-like number. I'd recommend either listening to this alongside the originals of the tracks, or at least taking the time to check them out at some point to really appreciate the difference.
My favourite of the NOFX tracks on the album has to be the cover of 'Thatcher Fucked the Kids' which has already hit the streets accompanied by an expectedly satirical video (keep an eye out for the stolen milk). The original of this was a pretty jovial acoustic track from the album 'Campfire Punkrock' which to be fair is a pretty accurate description for the original. NOFX have taken that, turned it up to 11, and launched an aggressive attack at the "Iron Lady" and her impact on the UK youth. I'd even go so far as to say that I prefer this to the original, even if it does start to sound a little like Jamie T at times. Perhaps my not-so-inner NOFX fan is being a bit biased on this one though!
Frank Turner, though, he's nailed a pretty great take on 'Bob' which has always been one of my favourite tracks. The ska-tinged ballsy number about Bob who ruins his liver, goes out and gets his head shaved, but the question remains whether he'll actually start conforming. Frank manages to take this and make it into this bluesy ballad which even replaces the horn section with a great harmonica solo which culminates in a passionate vocal harmony. Again, this particular track is accompanied by a video that makes many nods at the original NOFX video including Bob riding around on his scooter – well worth a watch.
All in all, this is well worth checking out if you're a fan of either Frank or NOFX, and if you're a fan of both then I'd expect you're already frantically trying to preorder yourself a copy (or save it on Spotify or whatever). I can only assume that this album was due to coincide with the NOFX Punk in Drublic stage performances at Slam Dunk festival which has been postponed to next year for some reason… But with both Frank and NOFX set to return for Slam Dunk '21 we could be set to see some sort of ridiculous mash up set, which would be a pretty wild night!
'West Coast vs Wessex' is released tomorrow (Friday 31 July). You can get your copy HERE.
www.facebook.com/frankturnermusic
All content © Über Rock. Not to be reproduced in part or in whole without the express written permission of Über Rock.