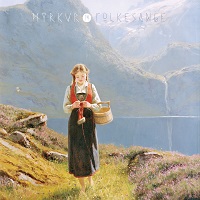 Myrkur? That's that black metal artist, right? Bollocks to that, there has always been a rather more refined and tasteful side of Myrkur's work that focuses on detail in harmonics and the beauty of minimalism to enhance her every action and sound, mixed with some much harsher sounds to show some of the darkness that may lie within. New album 'Folkesange' fully sheds the heavier side in search of times long gone, of days of old where the world was a far simpler place and deep into which the roots of her own Danish heritage reach deeply.
If you're expecting black metal theatrics, the likes of which Myrkur has done before, you will maybe be disappointed, as this release is focused on the soft, pagan drumbeat filled folk end of her repertoire, but there is such genuine beauty in each song on this creation that it is hard not to just be completely overwhelmed by its nature. The Viking calling into your blood from opening track 'Ella' marks the perfect foray into the album, with heartbeat-like drums behind Amalie's voice for an introduction as powerful and spellbinding an opening as you will find in an album. Vocal harmonies that don't just echo, but rather subtly influence the sonic landscape in a manner you don't even realise is being done until it has already passed. 'Tor i Helheim' is, by far, the longest track on the album, being almost double the length of the next longest at just over seven minutes, yet it seems to pass as quickly as the rest, with the Danish lyrics, whilst I am not able to comprehend them, somehow conveying perfectly the mood being set out as the realm of the dead referred to in the song title and the revered manner in which the ancient Danish people would hold the memories of their dead.
'Leaves of Yggdrasil' moves further into the Danish folklore, the subject of the song being an immense mythical tree in Norse cosmology, the entity which connects the nine worlds, with Amalie's soft vocals weaving as intricate a storytelling web of dreams as to sound nothing short of entrancing, an effect that only grows with further listens and I only realise I've finished my first listen through by the fact that I forgot to take the album cover out of the playlist, so there are a few seconds halting of the music. It's hard to pick out particular highlights, there is no filler whatsoever in this release, one that comes across so personal in the different tales that each track tells as we wind through them all to the conclusion of album closer 'Vinter', comprising solely of Amalie with her piano, is nothing short of perfection in itself and genuinely feels like the turning of the final page of a story being told, each song a different page.
To merely call this album spellbinding is to sell it somewhat short, I find myself somewhat struggling to perfectly convey the strength in subtlety and sheer songwriting quality that pervades this entirely haunting and atmospheric release. Just five weeks ago I thought I had a strong contender for album of the year but this not just blows it out of the water, it inters it deep within Langdos. Simply phenomenal.
'Folkesange' is released on 20 March. You can get your copy HERE.
All content © Über Rock. Not to be reproduced in part or in whole without the express written permission of Über Rock.