By Jason Walker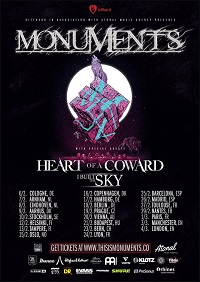 Rebellion see me so often they may as well be charging me rent by this point. Today's show hosts two of the more infamous bands in technical metal, Monuments and Heart of a Coward, but also bringing along with them Australian proggers I Built The Sky. Tonight is set to have more riffs than you can shake a stick at.
Tonight, I have an absolute army of friends with me as these bands, especially at the same show are ones not to be missed. I've seen all three acts before at separate shows and I know the sort of reaction they evoke and I am totally down for getting smashed to bits in the pits tonight!
I Built The Sky come on with a serene synthy backing track, a countdown to the inevitable busy guitar work that they're well known for. Last time I saw them I had Rohan riding around on my shoulders, crazy fun show too. Absolutely loving the bass player's Dingwall sound, excellent basses to compliment the sound they're rocking tonight, and I can't wait for more tracks from the new album!
Absolutely smashing through assorted instrumentals from their back catalogue, a mixture of face melting riffs and big fat funky bass lines, they're sounding fantastic! Hopefully we'll see some shenanigans as we've seen on their Instagram story throughout Europe. For the last song I managed to persuade Rohan to ride my shoulders again, not quite the same distance because he was using a wired jack this time… good fun though!
Opening with their first track from 'The Disconnect', Heart of a Coward go in hard with 'Drown in Ruin', an absolute corker from a pretty bloody good album! I'm not sure if it's because I was having a good time during I built the sky or not but suddenly the venue is absolutely heaving with people for Heart of a Coward and the pit is going absolutely off it.
I think I'm going to have to hand my glasses off to a mate at this rate because I am going to be in that pit for Monuments if it bloody kills me. Kaan absolutely dominates at crowd interaction and they're hanging on his every word, asking them to grab the person next to them for a shared headbanging sesh and they're down for it or just go mental in a pit, they obey. These guys are a band that is all about that crazy big energy and everyone wants a piece. I love seeing these guys live, and I will make a point of seeing them any time I can because of this, just outrageously good stuff.
The stage goes dark despite the crowd singing Backstreet Boys, and Monuments take the stage. With Mike finally behind the drums again full time, I have been waiting for this for so long. Opening with 'Blue Sky Thinking' from their 'Gnosis' album, a welcome addition from their earlier work, it goes down an absolute treat right from the get-go. Following up immediately with 'Leviathan', a banger from their most recent 'Phronesis' album, the pit isn't showing any signs of slowing down by any measure.
With another 'Phronesis' banger in the form of 'Mirror Image', I'm starting to find myself getting way more lost in the music now, is it the beer? Is it the pretty banging songs they're playing? I don't know but I am invested. At this point I'm really willing them to play 'Atlas', easily my favourite song they've done, I await it with bated breath – but I guess 'Animus' will do for now! But no sooner did I type this though, they go into 'Atlas' and I am right there in the centre for it, a bit worse for wear but man, what a bounce around, it's also why I should probably invest in contact lenses.
Towards the end of the set, they ask everyone to kneel prior to playing 'Regenerate', not going to lie, not a fan of this because my knees in my 30s aren't exactly great – the audience is clearly going bonkers for it though! Andy, with absolutely massive balls, randomly does a trust fall on the audience and I actually thought they'd let him fall but nope, they caught him! That is some crazy level of confidence with an unsuspecting audience! Finishing with 'Degenerate', as is Monuments tradition, they wrap up an insanely energetic and hectic set, this band has never disappointed with their live shows, and with Mike back and Andy on vocals, they've never been stronger.
A little extra bit ended with 'AWOL' against my expectations, I genuinely thought they were done but they've got a bit more in the tank and the crowd is 100 per cent with them on this. There's still more to go, with 'I, The Creator', I think I might have actually blown my voice out trying to sing along, oh well! What a bloody smashing show, can I do it again please?
All content © Über Rock. Not to be reproduced in part or in whole without the express written permission of Über Rock.