By DJ Monk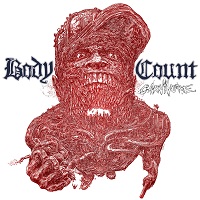 It could be argued that metal and rap are two compatible lifeforces, sharing a basically common etymology and heritage, the former born on the back streets of England's bleak industrial heartland, the latter in the ghettos of New York and Los Angeles – cities which themselves were, simultaneously, the breeding grounds for the nascent thrash and death metal movements. Both music forms appeal to the most basic of human instincts, and have never been afraid to address the hard, socio-political issues which many other forms of music deliberately choose to ignore because they won't get them radio airplay or chart success… but, neither metal nor rap have worried about such niceties, as, at their basest levels (i.e. when it doesn't have spoiled brats with rich parents bankrolling their offsprings' ultimately failed ambition to be the "next big thing") they are both the music of the streets, the underground – and the people.
It equally could be argued that, within this framework, Body Count have always been something of an anomaly: the first band to successfully fuse both genres, capturing the pure essence of both in a way which nobody before them, or, in my opinion, since, has achieved. Ice-T was one of the first artists to recognize the synergy between the two genres, taking the street-savvy cockiness and sense of social rejection of South Central and mixing it with the anger and aggression exploding out of the nearby Bay Area and fusing them into a behemothic blend of blastbeats, crunching riffs, searing solos and spitting lyrics that neither gave nor asked for any compromise. But, why the anomaly? Well, it took a long time for both the metal and rap communities to wake up to what Ice-T and his buddies were actually doing… while the MTV generation thought that 'Walk This Way' was the summation of the amalgamation of rap and rock, the rap and metal communities were actually turning their back on what T and his crüe were laying down, only really awakening 20 years later when Body Count starting laying the beats down again and forcing world to sit up and take proper notice…
'Carnivore', the third of the band's "comeback" albums, is one which will eat you alive. It gnaws and chews at every fibre of your being, challenging you to listen to what T is saying, while drawing you into a musical labyrinth from which you have no hope of escaping any time soon. Yes, the familiar lyrical themes are there, such as police brutality (something Ice-T first explored on the controversial 'Cop Killer' track on the band's 1992 self-titled debut): and, this may seem something of a dichotomy, given the rappers' 20-year career in the US mainstream portraying a detective; but, there's also a synergy between these two sides of T's character, as his TV persona is someone who expends tremendous amounts of energy fighting for the underdog and facing up to the system, while using it to attain justice. So, it should come as no surprise that T continues to challenge authority on the likes of 'Point The Finger' and 'Bum-Rush'.
'Carnivore' is everything you can expect from a Body Count album. From the rasping opening riff of the title track to the dying testament of 'The Hate Is Real', all of the ingredients are present, with T proving that, even in his early 60s, he has lost none of his anger and sense of fighting injustice. There are the homages – the cover of 'Ace Of Spades' just kills, T acidic and venomous in his delivery while the band, intelligently, stick very close to the original musical framework – as there are the collaborations: Power Trip's Riley Gale brings an extra level of attitude to the aforementioned 'Point The Finger' while the imprint of Jamey Jasta is all over the groove metal of 'Another Level'. The surprise package, however, is the appearance of Evanescence's Amy Lee on the surprisingly laid back 'When I'm Gone': well, it's not surprising, given that it is a tribute to a fallen brother, but it is in that it sounds nothing like the band have dared to lay down before.
Another surprising addition is a "metallicized" cover of his 1988 single 'Colors', which retains the essence of the original, reflecting its creator's pride in his own roots, yet allowing his band to add their own interpretation to the vibe.
Body Count inevitably will be a band who continue to divide fans of both the genres they represent. But, 'Carnivore' is a damn fine heavy metal album. As Ice-T himself says "I refuse to say I'm sorry, I refuse to give a fuck about how you feel…I refuse to apologize…" And just right too…
'Carnivore' is released tomorrow (Friday 6 March). You can get your copy HERE.
www.facebook.com/bodycountofficial
All content © Über Rock. Not to be reproduced in part or in whole without the express written permission of Über Rock.