By DJ Astrocreep
Another local Liverpool gig – people are going to end up thinking I live in the city at this rate! Last week's local hero headliners SPQR are our support for the evening, with Canadian punks Metz as our bill topping act. It's cold enough that Metz probably think they're at home in summer, not that it seems to affect the busy crowd that show up to support. 

Our support for the evening are SPQR, who I caught 100 yards away headlining a week ago and they're on top form again. I get a different set from the previous week, unsurprising given that was the second of two successive nights. It's noticeable that people fairly quickly start to move forwards, with plenty of nodding heads or body movement from the majority of the crowd a sign that they're being received well. This venue is several timea larger than last week's sweatbox, too, with comfortably more people in for the start of their set than could even fit in, so it takes a good performance, which SQPR deliver again, albeit with a bit less intensity of atmosphere – again, hardly unexpected given the bigger room and supporting instead of headlining. Another very good set from the art-rockers.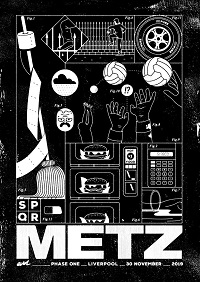 Crowd surfing. Pogo pits. Abrasive noise a- plenty, Metz sure as hell know how to bring it for a live performance. The pogo pits are the first of the above to appear, as only the second song of the set is already enough to send the crowd over the edge, while the crowd surfing is only one further song away, with one guy almost kicking the fairly low ceiling as he is held aloft so high! The disco ball does take a clattering, however, but is secured well enough that it's of no danger to anyone. The overwhelming feeling is one of raw passion, controlled aggression and fury and above all else, one of energetic enjoyment. While the shouts between songs may not be deafening, it's as likely half the crowd trying to catch a breather between the chaos as anything else.
The distortion added into the otherwise old school style punk rock adds a big dollop of Mudhoney like sounds to the mix, in the same manner favoured by Steve Turner and co, although there's an almost hardcore edge, certainly in the vocal style, that does differ their sound from that well-trodden path, almost as if fellow Canadian punks Fucked Up were bringing Mudhoney into their own style. 'The Swimmer', 'Raw Materials' and 'Acetate' all go down exceptionally well, though you could pick almost any song out of the set and say the exact same, as the madness is almost constant throughout. The chaos has an element of control at least, with everything seemingly good natured between everyone, making for a great set and an overall brilliant evening.
Metz support IDLES at their sold out shows in Glasgow tonight (Tuesday 3 December), Manchester tomorrow (Wednesday 4), Leeds on Thursday (5 December) and at Alexandra Palace on Saturday (7 December). They also play Chalk in Brighton on Friday (6 December) and the Moth Club in London on Sunday (8 December).
All content © Über Rock. Not to be reproduced in part or in whole without the express written permission of Über Rock.