By DJ Astrocreep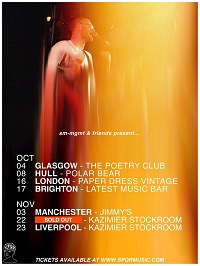 Another hometown gig – the second of three successive nights – sees me take in the Kazimier Stockroom for the first time to witness local heroes SQPR for the first time also. It's the last night of a tour for SQPR and they only have a single support band in Lennie Dies, the question is quite how their hometown would treat them.
Shortly after I arrive, Lennie Dies take to the stage and it's hard to know quite what to make of them visually. Boiler suits – well, the bottom half, for two of the trio – with a large Jeremy Corbin photo on the projector behind them, I can be sure of one thing, they likely have at least similar values to myself. When they start to play, the crowd are a bit slow at first but seem to quite quickly come around, as do I, with a sound that seems a fairly equal approximation between the Eighties B-Line Disaster and The Dandy Warhols, sounding potentially a lot better, depending on your take of the mentioned bands. It's not high melodies of the likes of the previous evening, but it's a damn good DIY Art-Rock show and they do an excellent job of entertaining us all, with more than a few around me finding themselves dancing along to the off beats and tight performance that they have to offer. A more than worthy warm up set.
On to our hosts for the evening, who I will see supporting another band in a week's time and man, do the audience go off big time from the very start. While a 40 minute-ish set may seem quite short for a headline act, it's the second of successive nights, with a different set promised for each of the nights. While a gig clash had prevented me attending the previous evening's entertainment, seeing a local band on home soil is a big draw for me, and SPQR certainly do not disappoint me. Labelled as a three piece, they play tonight as a live four piece, with two guests on two occasions, from other local acts such as Salt The Snail providing something a little bit extra for this closing night.
I will freely admit I am not au fait with most of the setlist, asking someone next to me for the title of the last track of the set, 'Josephine'.  What I will also freely say is that the feeling, the sheer atmosphere in that little sweatbox of a room was so good, so intensely uplifting, that there was not a single person in there, working or otherwise, who was neither sweating nor feeling so happy when they walked through into the main area that they had any bad feelings about the performance whatsoever. It was not note perfect, but that's not what this was all about.
Tonight is about the emotion, the general feeling, enjoying the music, the atmosphere and everything else to do with the evening. It's about feeling part of something and that is something that both bands more than play their part for and just about simply feeling alive. Both bands, from the DIY side and beyond, achieve this, they make every single person in that little sweatbox part of something different, something special, that intangible thing that just makes you think, 'YES'. The type of gig I lack too much personally and love going back to. I leave feeling like I can't wait for the almost week before I see them again. Long may it continue.
SPQR support Metz at Liverpool's Phase One on Saturday (30 November).
All content © Über Rock. Not to be reproduced in part or in whole without the express written permission of Über Rock.