By DJ Astrocreep
So, a few people out there may have heard of Lamb of God? Yeah, me too. However, guitarist Mark Morton's debut solo album, with star studded guests, somehow passed us by, so to catch him playing some of it live, acoustically, and to grab a chat with him about it and new EP 'Ether' was not an opportunity to pass up. Time for my first gig of the year, then.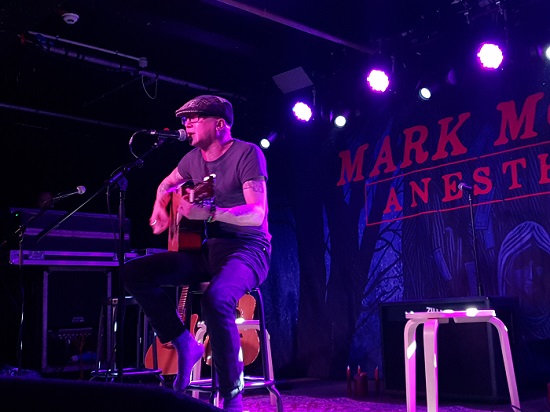 In support is Dave McPherson, of InMe fame, also playing acoustically, promoting the new InMe album 'Jumpstart Hope', also out this month. Dave gives a very honest self-appraisal and is open about the mental health issues he has faced, especially so in the last few years, and comes across as quite anxious about being back on the stage – something he shows he should have no fear about. His playing skills show a good standard of delivery, while his vocals have not been damaged by his time away to work on himself, a sign of the real talent that he has.
He comes across as a very likeable and open person between songs, with his frankness about his condition even bringing him to slight tears during one track, which he openly admits is about depression and it's clear that his songs come straight from the heart, with the lyrics quite descriptive and strikingly easy to relate to. The set includes 'Jumpstart Hope', a cover of (in his words) Robson and Jerome's hit, 'Unchained Melody' before finishing on InMe fan favourite 'Turbulence'. A very well played set from a rather endearing character, who rightfully draws applause from the crowd at each point.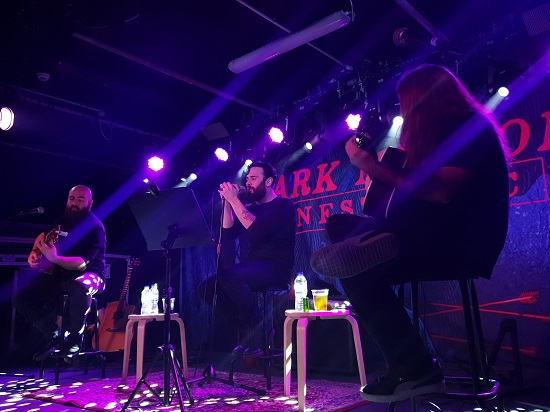 On to our headliner in Mark Morton then, and his lack of ease and familiarity with using a mic raises a couple of smiles as he has a couple of issues with positioning it to speak with us all during the retuning between songs. During our chat earlier I'd found out that the forthcoming 'Ether' EP would be played in full, around some covers as well as tracks from last year's solo debut, so I was quite eager to see exactly what he would include. Mark Morales has sung on both of Mark's solo releases so far, so makes for an excellent live companion for him.
While the audience is not the biggest still, it is certainly a welcoming and appreciative one and the two Marks make for a good tag team alongside their Welsh tourmate, who is providing backing for both vocals and guitar. Mark Morales vocals stretch between the dusky tones required of covering a Mark Lanegan style, through Layne Staley's soulful style and beyond demonstrating not just a good range, but a wide variety of styles he is able to perform in a rather excellent manner, to the point you almost forget guitarist Mark is the reason most are here!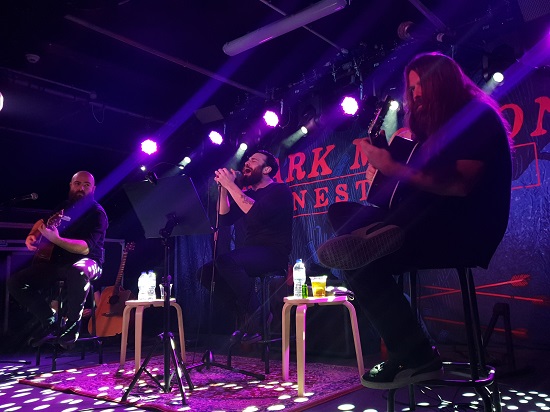 We get 13 songs in the set, with the new EP and 'Anaesthetic' taking a quite equal footing in the set choices, alongside two other covers. Tracks such as 'Save Defiance' and 'Axis', the latter recorded with Mark Lanegan previously, feature early on in the set before we hit the new EP with one of the covers, in the form of The Black Crowes 'She Talks To Angels', which Mark has recorded with Lzzy Hale, performed brilliantly by tonight's trio. It's now the EP in full, slightly out of order, given one of the covers now being first. 'The Fight' is comtinued before we hit a song that sits among my all-time favourites in Pearl Jam's 'Black', with the 'We Belong Together' version performed in a manner that raises almost as many hairs on the back of my neck as the original – no mean task in the slightest.
Mark's down to earth personality and demeanour shine through in his brief speaking between songs and as he hits another song I hold in the utmost regard – Alice In Chains' 'Down In A Hole' – wedged in between 'Black' and 'Love My Enemy', it's incredibly easy to just feel at ease, as Mark introduces the other members of the touring band. With the new EP now fully performed, we have time for 'Cross Off', the last Chester Bennington song currently released and a stellar version of Black Sabbath's 'Planet Caravan' to close what has been an excellent night of music.
The tour continues at the Cathouse in Glasgow tonight (Friday 10 January) and the O2 Academy 2 in Birmingham tomorrow (Saturday 11), finishing at the Underworld in Camden on Sunday (12 January).
'Ether' is released next Friday (17 January).
PHOTO CREDIT: Photos by the author.
All content © Über Rock. Not to be reproduced in part or in whole without the express written permission of Über Rock.