By DJ Monk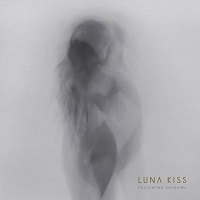 This debut full-length album from Coventry crüe Luna Kiss (they have previously released two EPs, 2013's 'Conjure And Sin' and 'Gravity' two years later) is a confident and assured offering from a young band who clearly have put a lot of effort and thought into crafting the 11 songs which it contains, with the result that this is as good as slice of alt-rock as your going to hear this or any other month.
What is attractive from the point of view of this hoary old listener is that it doesn't adhere to generic norms, switching as it does between a variety of sonic references, from the likes of Enter Shikari to the Manics, Radiohead and Muse via numerous other identifiable but non-cluttering signposts. The album also has an emphasis on generating a unique atmosphere, thanks largely to the beautifully layered harmonics, Wil Russell's almost ethereal and always evocative vocal phrasings and the precise and complimentary production from John Mitchell.
While 'Following Shadows' veers, if anywhere, towards the proggier end of the musical spectrum, Luna Kiss have the sense not to overcrowd the sound, often letting what is omitted sing louder than any needless cluttering could ever have achieved. Light and shade are precariously yet effectively balanced, with each of the tracks deftly presented and managed with aplomb and panache. There is a haunting quality which also permeates the length of the album, with the likes of 'You Are', the Floyd-ish 'Hart' and the beautifully acoustic-led title track possessing the ability to make the hairs on the back of your neck stand on end. But, they also know how to heavy things up, as shown by the rambunctious 'Close', which bestrides the middle portion of the album and the crashing interjections in 'Take Her Away' (one of a number of tracks from their earlier EPs re-recorded and updated for this full-length release).
Having been unfamiliar with Luna Kiss until I slipped 'Following Shadows' into the CD drawer on ÜRHQ's death decks, I must admit to having been impressed by what I heard. There is an immediacy which draws you, ever so slowly but nevertheless inevitably, into its laconic grooves, and it holds a bright candle proudly aloft, heralding a bright step forward in the continuing development of this young quartet. If you're a fan of any of the bands mentioned in this review, then this should be a nigh on essential purchase.
'Following Shadows' is out now. You can get your copy HERE.
Luna Kiss play an album launch show at an as-yet unidentified venue in Bedworth on Saturday 4 May. They also paly The Leif in Leamington Spa on Saturday 1 June and The Sunflower Lounge in Birmingham on Thursday 27 June.
www.facebook.com/LunaKissbandUK/
All content © Über Rock. Not to be reproduced in part or in whole without the express written permission of Über Rock.