By DJ Monk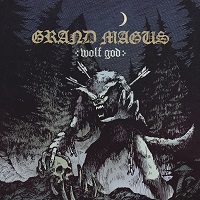 Like many metallians, I first came across Grand Magus when their mighty 'Iron Will' opus first landed on my death decks back in 2008. It came as a bolt from blue, an eye- (and ear-) opening revelation and clear evidence of the true power of heavy fuckin' metal to energise, entertain and excite – and also to create serious muscular damage, especially in the neck region. Unbelievably, the band were already more than a decade into their career and were very firmly shaking off their doom/stoner roots to adhere to a more "classic" metal sound. And now, a little more than another ten years later, their latest, ninth, album has landed with an equally emphatic thump.
The band adopted a slightly different approach to the recording of this latest opus. Previously, they had laid down the drum tracks first, then added in the bass, guitars and vocals, in that order; this time around, they spent six months jamming and writing the songs, and then recorded the basic tracks live in the studio. This, however, does not mean that GM have changed their philosophy on, and their approach to, the music itself; if anything, 'Wolf God' is a further consolidation of everything we have come to expect from a Magus album: riffed up to fuck, epic in its soundscape and not possessed of a single weak moment or element. If there are any changes, they are in the fact that 'Wolf God', if anything, sounds fresher and more reflective.
Lyrically based, once again, in their Scandinavian heritage without the overblown hyperbolae employed by some of their Swedish countrymen in their approaches to such subjects, 'Wolf God' thumps and grooves with an infectious ease which immediately worms its way into the darkest recesses of your metal-hardened soul and stays there, defying all comers to come and challenge it or try to remove it from its rightful place therein.
With the emphasis very much on the power of the delivery, there also many subtle moments, with a well-balanced use of light and shade throughout, from the rousing call to arms of the title track through the anthemic 'A Hall Clad In Gold' (featured in our Singles Club just this past weekend) and 'He Sent Them All To Hell', the atmospherics of 'Brother Of The Storm', the out-and-out thrash of 'Spear Thrower' to the almost jazz/prog interlude in the second half of the truly epic 'Glory To The Brave'.
Overall, 'Wolf God' is a majestic album, titanic in every department and a true celebration of everything that is great about heavy metal: epic without being bombastic, hard-hitting without leaving you punch-drunk, satiating yet leaving you thirsting for more, so much so that you immediately hit the repeat button to enjoy the whole aural experience all over again. I know we're less than a third of the way through 2019, but I have a feeling that, when the time comes, 'Wolf God' will be an extremely string contender for 'Album Of The Year' in many polls.
'Wolf God' is released this Friday (19 April). You can get your copy HERE.
www.facebook.com/grandmagusofficial/
Grand Magus hit the festival circuit, with appearances including the Graspop Metal Meeting on Saturday 22 June, Bloodstock on Friday 9 August and Summer Breeze on Wednesday 14 August.
All content © Über Rock. Not to be reproduced in part or in whole without the express written permission of Über Rock.