By Jim Rowland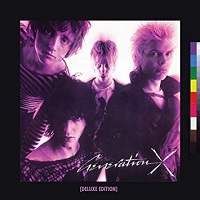 When you look back at the original wave of punk rock, there were so many classic debut albums – The Damned, Sex Pistols, The Ruts, X-Ray Spex, The Clash, Stiff Little Fingers, The Undertones, Ramones, The Saints – the list goes on. Perhaps one that slips under the radar a little is the self-titled 1978 debut by Generation X, perhaps because their career was eclipsed by Billy Idol's subsequent 'big rock' success. This month sees the release of a beautifully packaged deluxe edition reissue, on both CD and vinyl, newly remastered from the original production tapes and including 11 previously unreleased recordings. It contains the original UK 11 track album with all the A and B-sides of their singles from the period, 11 previously unreleased outtakes, a single mix and a number of mixes made by engineer Alan Winstanley.
'Generation X' very much veered towards the power-pop end of the punk spectrum, with the band in many ways standing apart from many of their punk contemporaries in style and attitude. There's a cleaner, more melodic pop sensibility to the songs on the album, whilst still retaining a powerful punk rock crunch. Standout tracks include 'From the Heart', the excellent 'One Hundred Punks' with its 'Quadrophenia'-inspired lyrics, and 'Ready Steady Go', a quality slice of punk power pop celebrating the '60s TV Show it namechecks, its presenter Cathy  McGowan and '60s pop icons, in contrast to The Clash's Stalinist 'No Elvis, Beatles or Rolling Stones' mantra on their debut. It's clear Generation X were admirers of The Who – their influence infiltrates the album, and guitarist Derwood Andrews shines on the last track 'Youth Youth Youth', with a Townsend-esque furious guitar freak-out closing the album. 'Kiss Me Deadly' hints at the song writing sophistication that would soon take the band, or its individuals, beyond the punk bracket altogether.
'Generation X' is of course a great album that many of us would own already, so do the extras warrant shelling out again on an upgrade? Well, you get all the singles and B-sides of the era, with 'Your Generation' and 'Wild Youth' being the non-album singles of the time – that's seven extras for a start, including 'Trying For Kicks' and 'This Heat' that didn't actually surface until the year after. Then there's the previously unreleased stuff, and there's plenty of it. You get an alternative Phil Wainman produced version of the 'Ready Steady Go'/'No No No' single, two outtake cover versions – John Lennon's 'Gimme Some Truth' and a stonkin' version of Gary Glitter's 'Rock On', a single version of 'Promises Promises' that wasn't released, and seven of the album's tracks that were rough mixed by engineer Alan Winstanley, which actually have a more raw, ballsy feel to them – his mix of 'Youth Youth Youth' is even wilder! On top of all that, the packaging is great, with the CD being a fold out digipak with the original artwork restored, and a good booklet, meaning I can finally replace my dodgy Nineties EMI reissue that had a terrible cover.
All in all, it's definitely worth that upgrade, and if 'Generation X' is an album that has up until now slipped under your punk radar, this edition is an essential purchase.
Generation X' is released on 26 April. You can get your copy HERE.
All content © Über Rock. Not to be reproduced in part or in whole without the express written permission of Über Rock.