By DJ Monk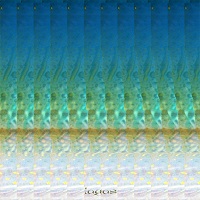 The fact that Hungarian psychedelic blues rockers Lemurian Folk Songs take their name from the neo-mythical "lost land" of Tamil legend, which is once supposed have linked the Indian subcontinent to the island of Madgascar and Australia, and quote mantric texts in their background material, is a massive indication of what to expect from this, their second album.
Despite what the band's name might suggest, there is nothing folksy about either the band or the six songs and 50 minutes of music with which they present us here: no, this is a pure, unadulterated psychedelic magic carpet ride of an album, filled with cascading, transcendent soundscapes that swirl around you like one of weird lighting effects from an early Pink Floyd concert. Indeed, that is a valuable sonic reference point, as there is a strong reminiscence of that late Sixties vibe evoked by Syd Barrett and his contemporaries; if you're looking for a more modern touchstone, then the likes of Blues Pills would be a worthy comparator.
Kriszti Benus' distorted, heavily effected, vocals perfectly match the overall ambience of the music, with the laidback feel of the keys, guitars and drums counterpointed by some surprising heavy bass miens, which is their turn don't sound out of place within the overall contexts but drive the songs forward with a latent energy which belies the otherwise chilled vibe generated throughout.
Lemurian Folk Songs describe their style of music as "processive rock", and the feeling is very much that of a procession, one that takes us through the minds of its creators on the path to enlightenment, providing along the way a soundtrack for lazy afternoons in the garden contemplating the meaning of life, the universe and other such mundanities.  It is a cohesive and consistent album, never straying from the singular music path which it treads from the psyched-out bell toll of the intro to the opening, title track, to the dying embers of 'Firelake'. It doesn't present any unwanted surprises, just strolls along at a pleasant pace which is enjoyable for its purity of intent. The sort of album which, if you indulge in such things, could very easily serve as the perfect accompaniment to getting slowly stoned. Or just chilling out.
'Logos' is out now. You can get your copy HERE.
www.facebook.com/lemurianfolksongs
All content © Über Rock. Not to be reproduced in part or in whole without the express written permission of Über Rock.