By DJ Monk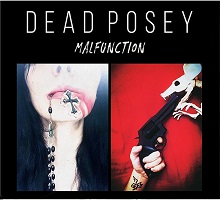 Proving yet again that you don't need a massive band of hired hands to make a big noise, the Los Angeles-based husband and wife duo of Tony F and Danyell Souza have managed to produce an EP that sounds as huge as any multiple-limbed gothic/industrial rock combo could hope to achieve, delivering an all-too-brief but highly effective collection of four tracks capable of levelling a city block of skyscrapers quicker than a rupture in the San Andreas Fault.
Dead Posey may be familiar to the geeks among ÜR's readership: their songs have been used in TV series such as 'Lucifer' and 'Jessica Jones', while a previous single 'Don't Stop The Devil' was also used as a WWE PPV theme tune. I can see why they would have been picked up for the latter, as, while it may be only four songs long – only one of which exceeds the poptastic three-and-a-half-minute mark – but 'Malfunction' delivers an impact greater than many full-length albums manage to achieve in twice or thrice their unnecessary length.
If you're looking for a simplistic musical reference point, then I'm sorry (or pleased) to say that there are very few immediately present. Possibly think of Rammstein covering Skinny Puppy, Alanis Morrissette fronting an EDM-infused version of The Sisters Of Mercy, Joan Jett jamming with The Banshees and you might be getting close to the addled territory 'Malfunction' inherits. In this world of commercially-pleasing copycatting and retrospective resurrections, Dead Posey inhabit a territory that transcends the boundary between this world and the next, offering a sense of comfortable recognition but also challenging and bending the rules to their own means.
'Malfunction' is out now. You can get your copy HERE.
All content © Über Rock. Not to be reproduced in part or in whole without the express written permission of Über Rock.