By Jonny Bakes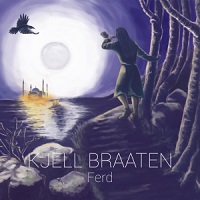 There's every chance that the name Kjell Braaten is one that is not familiar to you, but I bet that if I were to mention the band Warduna, then there's a good number of you who would recognise them. What links the two is that Kjell has been known to contribute to Wardruna with his traditional percussion talent. As a result, you might be expecting his solo album to sound just like Wardruna, well you would be wrong.
For the last 20 years, Kjell has spent his time focusing on Norse music traditions and their roots, not only through the development of traditional music but also through lecturing on Norse music history. So it's pretty safe to say that Kjell Braaten is a bit of an expert when it comes to traditional Norse stylings which should make his work of interest to anyone who wants to learn more about historical music. If there was likely to be anything close to traditional nordic music, it stands to reason that this could be the closest you would get… without having the ability to travel through time at least!
The title of this latest release, 'Ferd', means "journey" which is the overarching theme of the album. It pays homage to those who traveled the world to trade in not only goods but also to trade in cultural experiences. Because of this, you'll notice that there are elements of traditional music from across the lands on the old nordic trade routes. In particular you'll hear influences from North Africa, America and the East within the music.
What I found particularly impressive about this album is that while the instruments used are very simple and traditional, the compositions themselves are incredibly complex. There are so many layers to each song that weave together to form these moving passages of music. Percussion plays a very large part in all of the tracks, where several different percussion instruments are played together to form an intricate rhythm that dominates the music. Vocals are used sparingly throughout the album and when they are used it is generally more focused on chanting with very little in the way of lyrics to speak of.
You could almost say that 'Ferd' is an educational piece or at the very least it will open your mind to something completely different to what you consider to be music. It shares similarities to music still generated by tribes who have kept themselves deeply rooted in tradition across the far corners of the world. Every time I've listened through this album I've found myself focusing on different layers of the songs and noticing new things. In fact I must be on the 6th or 7th listen through no and it still feels like I'm hearing these songs for the first time! It's the perfect music to just sit, chill out and focus on nothing else but the layers of the songs for a real relaxing experience.
Let's be honest, this is pretty far from the Über Rock norm, but that's exactly where I like to be from time to time. For anyone who claims to have an interest in old Norse, this album is an absolute must to really envelope yourself in the traditional music stylings of the cultures. Okay, so you may have read the Edda, but this is really a few steps above and allows you to be immersed into the culture of the common folk. 'Ferd' is a vital cultural experience that will broaden the mind and excite those who wish to dig deeper into the music traditions of different cultures.
'Ferd' is released on Friday (13 November). You can get your copy HERE.
www.facebook.com/kjellbraatenmusic
All content © Über Rock. Not to be reproduced in part or in whole without the express written permission of Über Rock.