By Jim Rowland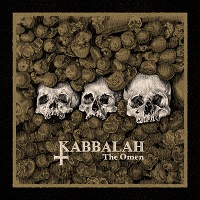 Hailing from Pamplona in northern Spain, all girl trio Kabbalah already have three EPs, 'Kabbalah', 'Primitive Stone' and 'Revelations', and a 2017 debut album 'Spectral Ascent' under their belts. Their sophomore full-length album 'The Omen' sees these occult rockers link up with US label Rebel Waves Records, an imprint of Ripple Music, and promises to spread Kabbalah's witchy word even further.
Kabbalah specialise in a devilish mix of 70's hard rock, psyche and doom, namechecking the likes of Coven, Black Sabbath and Blue Öyster Cult as influences, which is always a good start. In fact more recent occult-inspired acts like Blood Ceremony, The Devil's Blood and Witchcraft also spring to mind with Kabbalah's sound. With 'The Omen's eight tracks clocking in at only 29 minutes, it's a pretty short album, but a good album doesn't necessarily have to be a long album at all, and this is most definitely a good album.
The likes of 'The Ritual', 'Ceibas' and opener 'Stigmatized' all pack powerful Sabbath-inspired doomy riffs, with the latter incorporating some tasty psyche fuzz guitar. Indeed 'The Omen' is every bit as psyche as it is doomy, with the altogether lighter and catchy 'Night Comes Near' having a stronger psyche flavour using fuzz and subtle organ well, the moody dark psychedelia of 'Lamentations' providing a real album highlight, and 'Labyrinth' switching back and forth from lighter psyche to full doom riffery.
The psychedelic pop feel of 'Duna' provides the album's lightest moment, before the darker, epic and heavy sounding 'Liturgy' rounds the album off in fine style. Throughout the album the echo-drenched and heavily harmonised vocals sit slightly back in the mix, as is often the case with this type of stuff, providing an almost spooky atmosphere to complement the music well.
'The Omen' is a quality, authentic and heady mix of doom, early 70's hard rock and psychedelia. If old school flavoured occult rock is your thing, this is most definitely an album you should be checking out. Very good indeed.
'The Omen' is released on Friday (15 January). You can get your copy HERE.
All content © Über Rock. Not to be reproduced in part or in whole without the express written permission of Über Rock.