Written by DJ Astrocreep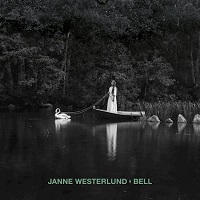 Having covered one of Janne Westerlund's band projects in the form of Pharoah Overlord, as well as being a fan of another, Circle, I must admit to having a certain idea of what to expect in my head before having my first listen and was actually quite surprised by the level of difference in his solo work to his band projects. That's not, however, a negative mark, however much I enjoy his other work.
The first noticeable thing is how stripped back the feel is in comparison to his other work – it sounds very much singer-songwriter, whereas my preconception was more expectant of a level of psych that doesn't really materialise, though I don't see this as so much of a negative. There is a heavy veer towards his Folk work, very much leaning on the melodic side of things and actually making an extremely good job of doing so. The songs go from just over 2.5 minutes to 8.5 minutes long, so there is some good depth to the tracks as well as having the aforementioned melodious constructs.
The first single is a good place to start. While the video (linked just above) shows Janne's visual artist credentials well, it's the shortest song on the album, as well as being one of the most accessible. Like the rest of the album, the focus is very much on Janne's lilting voice and his mix of guitar and banjo playing, both of which are at a very high level and very suited to Janne's solo work. This same high level is present throughout the album, though with some of the longer tracks, he does have some extra bits added in to add due emphasis were required, making the songs seem shorter than they actually are due to the different parts within each.
There is a Celtic/pagan feel to a lot of the album, interspersed within the Folk roots, both in terms of music sound and structure and the way Janne uses his voice. A couple of the songs are slightly interchangeable in their sound, which may put a couple of people off, but I personally found this not to be a negative, due to the sheer quality of the songwriting. It's also not for those that don't like fairly minimalistic musical approaches, due to Janne's use of his voice and either a banjo or guitar as the main point of writing with the majority of the material within this release. That said, it's an accessible and highly credible piece of work from Janne, showcasing his personal strengths in his songwriting, his guitar and banjo skills and in his ability with his voice. It's easy to appreciate this on the first listen through, while subsequent plays will draw you deeper into his mesmerising tracks.
'Bell' is released on 8 February. You can get your copy HERE.
www.facebook.com/Westerlund.Janne/
All content © Über Rock. Not to be reproduced in part or in whole without the express written permission of Über Rock.