By Hannah Reid
Oh my God, what a night tonight was. I went into this show not knowing the first two bands, and only knowing a couple of songs from Avatar, but, as I was leaving, I was adding everyone's songs to my playlist. It was also the first night of tour, so you knew that these bands were going to give their absolute everything to kick it all off the best they could.
Opening the whole night up was a single act called Dylan Walshe, with just an acoustic guitar, a harmonica and his voice, he captured the crowd immediately and everyone was loving what he was doing. The musician is originally from Dublin, but recently moved over to America so had a good few things to say about the recent political stance happening over there, and even made a song about it and Trump. It was the first time he was playing in Scotland, but he didn't let that phase him, and it was certain that everyone was loving him. The whole time the room felt like it was moving because of how many people were stomping and clapping along to his songs. The music was very feelgood, very upbeat tunes that were catchy – with more meaningful lyrics within them that got stuck in your head.
It was definitely an interesting choice to have the acoustic act opening up for the bands, as I would never have put the two of them together just for the sound difference they have – but it was definitely worth it and paid off. The crowd absolutely loved what was being played in front of them, and seeing as it was his first time, they couldn't wait for him to come back again.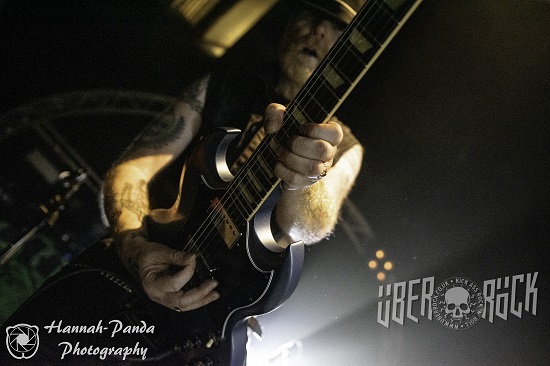 The Mahones were next up, and oh wow this Irish band knew how to put on a show and not stop. They were good at constantly interacting with everything going on: the crowd and the photographers, getting up in the photographers' cameras to try and get them all a unique shot of what was going on. The energy they had throughout their set was through the roof, as they constantly moved around and gave it their all – it really was the first night of tour because everyone was so excited to be moving around and getting to do whatever they wanted on stage. The four-piece could really show what they were doing, and the lead singer made a comment that even after 20 albums and 28 years of being together, shows like this never grew old – and you could see that on their faces.
The lead singer jumped into the crowd during their final song, giving the crowd the guitar to strum and hold while he moved around, high fiving and hugging as many people as he could. It was wholesome and you could tell how much they were all enjoying themselves throughout the performance. They knew how to put on a show, after doing it for so long, but they kept everything exciting and fresh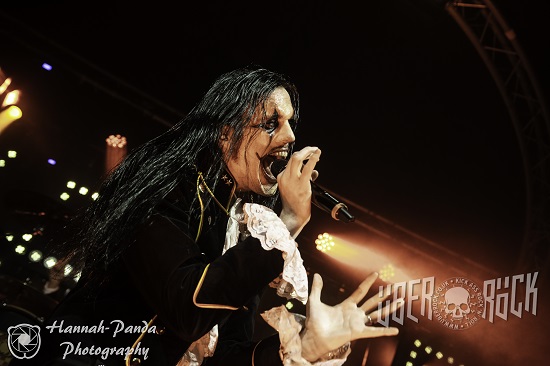 The set up for Avatar's set was like it's own little mini show, all the stage crew had waistcoats like they were ushers and there was a track going over the whole time with quips and messages – almost like a radio show as everyone was setting up.
When it finally came to Avatar due on stage everyone was excited and shouting – I was excited because of the music but also I knew that they were show people that have some of the most entertaining performances ever. They did not let anyone down. The game out with full force and came to slay the music game. There was a podium set up in the middle of the stage for the lead singer to perform from and make the most of it, opening up with 'A Statue of the King'. The entire stage presence this band had was absolutely amazing and they could totally command everything that was going on around them.
Lead guitarist, dubbed 'The King', was then motioned to step to the centre of the stage where the moved a massive throne to and from there he played away to the second song 'Legend of the King', and what a performance stance that whole moment was. They played round the throne, including in the set and going 'round, as though the guitarist really was the main focus of this whole song. The riffs that were played allowed for everyone to get down and headbang along – both those on stage and in the crowd. It was a longer song than some of their others, but that allowed for them to make the most of their current stage set up and use it for their benefit. 'Paint Me Red' was the third song that got performed and everyone was living for it as the lights washed the stage out in reds.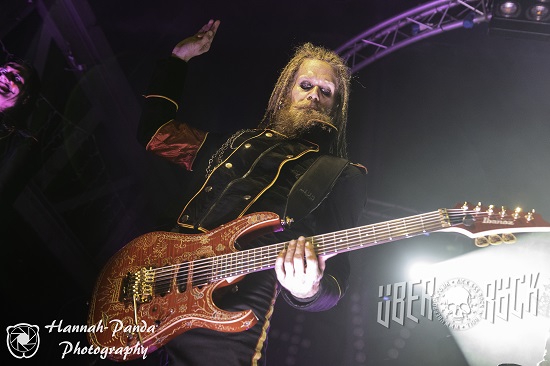 The band started talking about how getting back into touring was a little daunting, especially when it wasn't only just the first night of tour, but the first show of 2019 – but there was something for sure that they couldn't wait to get back into doing it a whole lot more. 'Get In Line' was opened up after with shouting at the Glasgow crowd and asking if they were ready for everything – and oh boy were they. Glasgow knows how to do a show, and they definitely know how to kick off a tour on the right note.
'Smells Like A Freakshow' is my personal favourite song from Avatar so when the opening for that started – oh my God I was so excited. And I was definitely not the only one in the crowd that thought the same, as most people were there and singing along as much as they could.
'Hail The Apocalypse' was the final song of the night, and what a way to end and bring everything to a close. The energy throughout the entire night was so high and so fun, that you couldn't help but leave with the biggest smile on your face and seeing as it was the first night of tour you got all the excitement and the total best of what all the bands could do first off.
PHOTO CREDIT: All photos © Hannah Reid/Über Rock. You can view our full gallery of photographs HERE.
All content © Über Not to be reproduced in part or in whole without the express written permission of Über Rock.