By Jim Rowland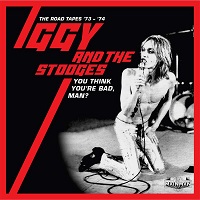 Looking back on the history of rock 'n' roll, there aren't many bands more infamous, legendary and influential than The Stooges, even if they didn't get the recognition, or record sales, they deserved at the time. This new box set from Cherry Red documents the final year of the band's existence, in its second incarnation, through five live recordings, all of which have been released at various points in time before, but gathered together here for the first time in one very neat little box.
With the original incarnation of the Stooges having disbanded in 1971, Iggy Pop soon linked up with David Bowie and his dodgy manager Tony Defries and signed a deal with Defries' management company Mainman. What resulted was Pop linking up with guitarist James Williamson, and eventually bringing original Stooges Ron and Scott Asheton back into the fold, this time with Ron on bass, to re-form the Stooges under the slightly tweaked moniker of Iggy & The Stooges. In 1973 they would release the seminal 'Raw Power' album, eventually hailed as one of the most important proto-punk releases, which it was, but at the time selling poorly. These recordings are culled from the ensuing tour to promote 'Raw Power', and as well as featuring tracks from the album, there's a good handful of tracks that were written for a projected follow up to 'Raw Power' which never materialised, mainly down to the band being dropped like a stone from Columbia Records soon after 'Raw Power' was released. So, you get a taste of what might have been here with tracks like 'Cock In My Pocket', 'Head On', 'Heavy Liquid', 'Rich Bitch' and 'Open Up & Bleed'.
Now if you're familiar with these recordings from their various previous individual releases you'll know what to expect from the sound quality. If you're new to them, don't expect this to be a box set of pristine live album quality recordings – basically they're bootlegs that have done the rounds for years, mostly recorded on portable tape machines by audience members. What's important about them is that they are really the only live documents of this seminal band in their final throes, and what they lack in sonic quality is more than made up for in the aggressive, chaotic and violent energy that oozes out from them.
Disc one kicks it off with a live show recorded at L.A.'s Whiskey A Go-Go in September 1973, later released as 'Live At The Whisky A Go-Go' on Revenge Records in 1988 and crediting Ron Asheton as producer. It's the only disc here to feature the chaotic ten minutes of 'She Creatures of the Hollywood Hills', alongside a smattering of 'Raw Power' material plus 'Head On' and 'Open Up and Bleed' and 'Heavy Liquid', which is actually listed as 'New Orleans' here. This one's a prime example of the raw energy of the band cutting through the poor sound quality.
Disc two's 'Auburn Hills' presents the first of two shows performed at Detroit's Michigan Palace, this one in October '73, which originally provided half of the infamous 'Metallic K.O.' release in 1976. This one has a noticeable improvement in the sound quality with Scott Asheton's kick drum belting out of the speakers. There's only six tracks – three from 'Raw Power' and three of the subsequent songs – but these are augmented by three lengthy listed 'rants' from Iggy which all make fascinating listening, and a good insight into the man's mental state at the time, and ability to make some very cutting and controversial comments.
First released by Bomp! Records in 2000, and one of the Stooges' most notorious live recordings, Disc Three's 'Double Danger Volume I' was recorded on a cassette recorder allegedly shoved down a biker's Y-fronts (it sounds like it too!) at Baltimore's Latin Casino in November '73. The same few songs from 'Raw Power' feature, but by this time newer songs 'Wet My Bed', 'I Got Nothin', 'Rich Bitch' and the glorious 'Cock In My Pocket' had been added to the set alongside 'Heavy Liquid', 'Open Up and Bleed' and 'Head On'. Also released by Bomp!, 'Double DangerVolume II', on disc four here,  captured the group's New Year's Eve show at New York's Academy Of Music, playing pretty much the same set as they had in Baltimore. It just about trumps the Baltimore show in the sound quality stakes, and has the added bonus of Ron Asheton's Hitler impersonation intro.
Last and most definitely not least is the familiar ground of 'Metallic K.O. (The Final Show)', capturing The Stooges' final death throes at Michigan Palace on February 9th 1974 in its entirety. It's the best known of these recordings, graced the other half of the 'Metallic K.O.' release, and easily has the best sound quality of all these recordings, albeit still falling short of a professional standard live recording. Prior to the show, Iggy had ignited a feud with a biker gang known as the Scorpions, who duly turned up to pelt the stage with anything they could lay their hands on, with smashing glass audible at times, whilst the Ig continues to goad them relentlessly. It was an appropriate way for the Stooges to bow out, and is a glorious listen.
Despite the poor sound quality of much of these recordings, they are an essential slice of rock'n'roll history, and the best you're gonna get if you want to know what this last incarnation of the Stooges actually sounded like live. If you cut through the murky sound, there's plenty to marvel at, and at all points the passion, energy and raw brilliance of the Stooges shines through. The box comes with a very nice booklet with a detailed commentary from legendary journalist Kris Needs and some excellent colour pictures of the band from the time. It brings all these recordings together for the first time, and at a very reasonable price is well worth it for anyone with an interest in Iggy Pop and the Stooges.
'You Think You're Bad, Man? The Road Tapes 1973-74' is released on Friday (20 November). You can get your copy HERE.
All content © Über Rock. Not to be reproduced in part or in whole without the express written permission of Über Rock.